2 posts on "graduation"
April 3, 2017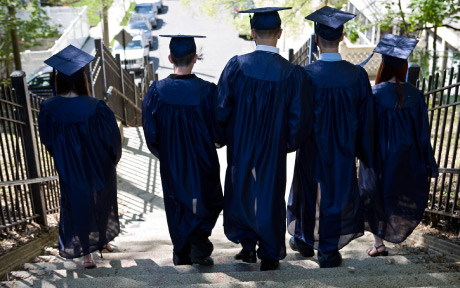 Evidence overwhelmingly shows that the average earnings premium to having a college education is high and has risen over the past several decades, in part because of a decline in real average earnings for those without a college degree.
May 20, 2016
J.K. Rowling, David Byrne, Eric Idle—These captivating figures delivered commencement addresses at Harvard, Columbia University and Whitman College, respectively. Of course, Federal Reserve chairs give commencement speeches too, and good ones. NPR maintains a list of some standouts, "The Best Commencement Speeches, Ever" (this is a cool interactive website that enables you to search by name, school, year, or by theme—play, inner voice, embrace failure, change the world, make art, etc.). Its roundup of graduation season remarks includes Janet Yellen's 2014 speech at New York University, and Ben Bernanke's 2013 speech at Princeton. Another list, "Best Commencement Speeches Of All Time," includes Alan Greenspan's 1999 commencement speech at Harvard.