2 posts on "low income counties"
January 12, 2021
This is the fourth and final post in this series aimed at understanding the gap in COVID-19 intensity by race and by income. The previous three posts focused on the role of mediating variables—such as uninsurance rates, comorbidities, and health resource in the first post; public transportation, and home crowding in the second; and social distancing, pollution, and age composition in the third—in explaining the racial and income gap in the incidence of COVID-19. In this post, we now investigate the role of employment in essential services in explaining this gap.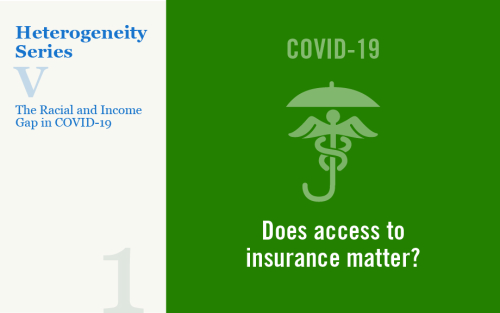 Our previous work documents that low-income and majority-minority areas were considerably more affected by COVID-19, as captured by markedly higher case and death rates. In a four-part series starting with this post, we seek to understand the reasons behind these income and racial disparities. Do disparities in health status translate into disparities in COVID-19 intensity? Does the health system play a role through health insurance and hospital capacity? Can disparities in COVID-19 intensity be explained by high-density, crowded environments? Does social distancing, pollution, or the age composition of the county matter? Does the prevalence of essential service jobs make a difference? This post will focus on the first two questions. The next three posts in this series will focus on the remaining questions. The posts will follow a similar structure. In each post, we will aim to understand whether the factors considered in that post affect overall COVID-19 intensity, whether the racial and income gaps can be further explained when we additionally include the factors in consideration in that post, and whether and to what extent the factors under consideration in that post independently affect racial and income gaps in COVID-19 intensity (without controlling for the factors considered in the other posts in this series).