2 posts on "student debt outcomes"
September 27, 2022
On August 24, 2022, the White House released a plan to cancel federal student loans for most borrowers. In April,  we wrote about the costs and who most benefits from a few hypothetical loan forgiveness proposals using our Consumer Credit Panel, based on Equifax credit report data.  In this post, we update our framework to consider the White House plan now that parameters are known, with estimates for the total amount of forgiven loans and the distribution of who holds federal student loans before and after the proposed debt jubilee.
July 7, 2020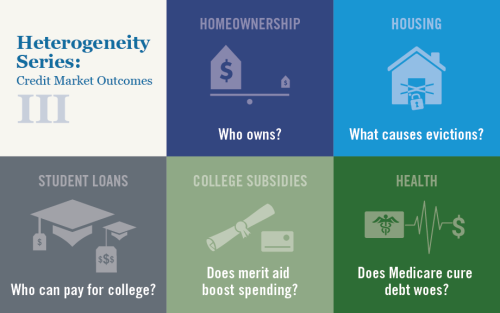 Following up series on heterogeneity and inequality broadly and in labor market outcomes specifically, we turn our focus to further documenting heterogeneity in credit market outcomes, looking at disparities in home ownership rates, varying exposure to evictions, differing gains from tuition support and Medicare programs, and more.