New York Fed Research Library
Most people know that financial crises are nothing new. But many of us may not know that attempts to represent them graphically have also been around. L. Merle Hostetler, former director of research of the Cleveland Fed, created a graphic presentation of American financial history from 1861 through 1938.

Hostetler's timeline (first produced in 1936 and later expanded to cover through 1938) includes developments and events in American policy, business, and industry. In it, you can find answers to such questions as:
What percentage of the public debt was in the hands of the national banks at the time the Federal Reserve Act was passed? (see 1913)
What international syndicate saw its plans frustrated by a coffee importer in New York City? (see 1895)
For a more timely graphic representation, view the timelines produced by the New York Fed for the recent financial crisis.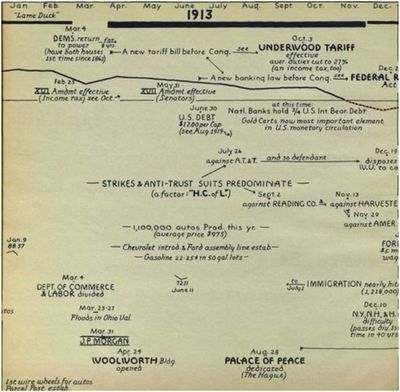 Disclaimer
The views expressed in this post are those of the author(s) and do not necessarily reflect the position of the Federal Reserve Bank of New York or the Federal Reserve System. Any errors or omissions are the responsibility of the author(s).