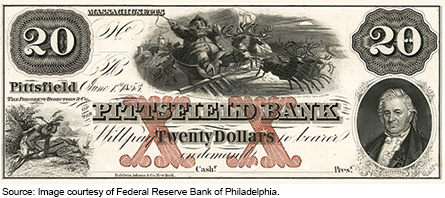 From 1793 until 1861, when the U. S. Treasury Department was given exclusive rights to produce legal tender, thousands of different styles of bank notes were created by U.S. banks. The banks all based their currencies on standardized units, but in most every other way the notes differed wildly—colorful versus monochromatic, and graphics ranging from stock images to almost any concept one could imagine.


During the unregulated 19th century, a variety of banks issued their own holiday-themed currency. One popular figure featured on many bills was Santa Claus. Christmas was declared an official holiday in many northern states in the mid-1800s, and some banks celebrated by creating Santa Claus currency. This was a very popular time for Santa in the United States, spurred on by the publication of "A Visit from St. Nicholas" by Clement Clarke Moore in 1823.

The Santa Claus bank notes became very popular as keepsakes, because denominations were typically small and the subject was at the forefront of peoples' minds given the brand-new official holiday. One motivation for the banks to release these and other collectible currencies was to dissuade people from redeeming the bills for their underlying gold value. Among the banks to issue Santa Claus money was the Howard Banking Company of Boston, Massachusetts, which issued such a bank note in the 1850s. This $5 bill featured Santa Claus wearing a tricorne hat and riding his sled along a roof, led by a herd of reindeer.

Sadly, banks stopped releasing Santa Claus currency once the U.S. Treasury took over the production of legal tender. After that point, these currencies became known as obsolete bank notes and lost all value outside of their worth as collectibles. Fortunately, the spirit of Santa Claus lives on even if his visage on currency has disappeared. Happy Holidays!
Disclaimer
The views expressed in this post are those of the author and do not necessarily reflect the position of the Federal Reserve Bank of New York or the Federal Reserve System. Any errors or omissions are the responsibility of the author.
---

Megan Cohen is a research librarian in the Federal Reserve Bank of New York's Research and Statistics Group.