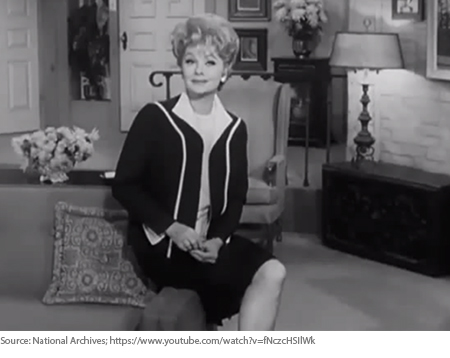 U.S. savings bonds were created in 1935 under President Franklin D. Roosevelt to assist the United States in raising funds for a variety of government programs.

One popular marketing tool was to enlist popular culture to sell the bonds, with television proving to be a natural outlet. An example was a commercial featuring Lucille Ball and Desi Arnaz encouraging people to buy U.S. savings bonds for Christmas.


Another promotional film from 1963 featured Jay North, the actor starring in "Dennis the Menace," publicizing NASA's Junior Astronaut campaign and U.S. savings bonds. In addition to information on then-current missions, we get to see Mr. Wilson launch Dennis into outer space.

"Uncle Sam Speaks: U.S. Savings Bonds and Stamps" was created by the National Archives and Records Administration as a retrospective of promotional films. This clip compilation included celebrities such as Bing Crosby and John Wayne, cartoon characters such as Bullwinkle and Bugs Bunny, and the casts of "Cheers," "WKRP in Cincinnati," "Father Knows Best," and "Lassie."

Later television spots for U.S. savings bonds included animation. One classic example was a 1961 public service announcement for savings stamps featuring the classic characters from "The Rocky and Bullwinkle Show" in "Savings Stamp Club." Savings stamps were issued in small denominations, sold by post offices or banks, and were collected until the holder held enough to purchase a U.S. savings bond.

A 1977 clip updated the Ant and the Grasshopper fable to show the benefits of using payroll savings plans to buy bonds.

U.S. savings bonds were also promoted in publications, such as this advertisement in "The Beyond," a 1951 comic book. This particular ad describes the nest eggs that could be made with savings bonds.

Unfortunately for pop culture aficionados, big-name promotions for U.S. savings bonds died down in more recent decades. In a further development, U.S. savings bonds stopped being sold over the counter at banks and financial institutions beginning in 2012. However, U.S. savings bonds are still available for purchase online via the U.S. Treasury, even if
a popular television or movie star isn't trying to sell consumers on their merits.
Disclaimer
The views expressed in this post are those of the author and do not necessarily reflect the position of the Federal Reserve Bank of New York or the Federal Reserve System. Any errors or omissions are the responsibility of the author.
---


Megan Cohen is a research librarian in the Federal Reserve Bank of New York's Research and Statistics Group.