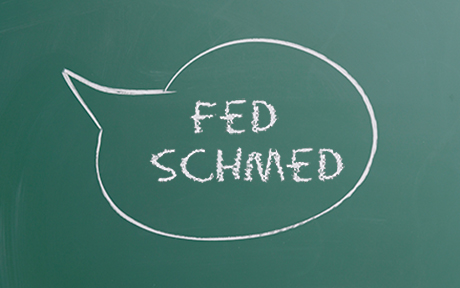 You might hear: "Economy eschmonomy." Another possibility is: "Economy schmeconomy." This phenomenon of repeating a word with the prefix shm- (or sometimes "schm-"), is called shm-reduplication. It challenges the relevance and sometimes the value of the repeated word, and examples can be found in articles like this Newsday clip "The High End: Economy, shmeconomy — the rich still travel."

Who cares about whether it's eschmonomy or schmeconomy? A pair of linguists from MIT and Harvard, that's who. This 2003 paper describes the authors' attempt to understand how the shm-reduplication works (the linguistic rules that govern its use) and how the researchers used interviews and questionnaires to investigate those rules. The authors also review the Yiddish origins of this usage (there are competing theories), provide a short section on the meaning of phrases that use the reduplication, and inform us that there is a relative lack of study of this form of reduplication (there are a few other forms).
Who loves shm-reduplication? The media; print, online, broadcast . . . you name it. It's a very compact linguistic device. A simple two-word phrase can convey a wealth of information about the author (or speaker), the audience, the object of the shm-reduplication, and the overall situation. "Economy eschmonomy" could mean the opposite of "it's the economy, stupid" — phrased differently: Never mind about the economy, this other thing (aliens from outer space, for example) is much more important. Or it could be a more personal statement: Forget about the economy, I'm going on a vacation (this comes up in an example below).
Some illustrative examples of shm-reduplication on the web:
Currency shmurrency In Barron's, columnist Alan Abelson says: "For even if Beijing were to up the value of the yuan by as much a 15% … it wouldn't get our somnolent factories up and smoking again. The reason is simply that what our manufacturing workers earn in an hour, their counterparts in China earn in a week. Currency, shmurrency, no matter how hard and how smart our folks work, that gap is as ugly and daunting as it is yawning." (June 2005)
Interest rates, schminterest rates South African blogger, Piet Viljoen, says that interest rate fluctuations shouldn't affect your stock portfolio. (March 2009)
Income Schmincome In a brief post on NewRepublic.com, Martin Peretz pokes fun at the headline choices of several major papers in reporting President Obama's income. (April 2009)
Economy eschmonomy Jill Schensul, a writer on NorthJersey.com, relates that even though many other people she knows are foregoing vacations due to the uncertain economy, she refuses to. (October 2009)
Markets Schmarkets In a video clip, Professor Richard D. Wolff, a Marxian economist, makes an effort to get his audience laughing (although they're slow on the uptake). Wolff pretends that President Franklin Delano Roosevelt said "market schmarket" to the American people as he dismantled the existing "natural" market and issued ration cards in order to make sure that necessary resources were available for the war effort. (November 2011)
Stocks, shmocks On the public policy blog of the American Enterprise Institute, James Pethokoukis writes that "The US economy doesn't look like an economy anywhere near a recession." (October 2014)
Fed, schmed! On CNBC.com, Jeremy Siegel, a professor of finance at the Wharton School, suggests that even if the Fed raised rates, the effect on the stock market would not be bad. (June 2015)
Will you find the shm-reduplication device in formal speeches? Probably not, unless the speech takes place on the East Coast and the speaker wants to get the audience's attention. And probably not by Federal Reserve presidents and high level Fed staff. The "shm" is a bit dangerous, in that it can be perceived (or misperceived) as expressing a lack of respect.
However, there is one fine example of a speech by a Fed official who, because of the geographic location of the speech, felt the need, after using shm-reduplication, to then go on to explain the linguistic device (one wonders if that explanation was in the speaker's original notes or if he inserted it after perceiving incomprehension in the eyes of the audience members). The example is from a 2008 speech by Fred Mishkin, a former member of the Board of Governors. In the book In Fed We Trust, author David Wessel explains:
Mishkin thought of himself as entertaining—and sometimes was. Despite uneasiness among the Fed's public relations staff, he titled one speech "Comfort Zones, Shmumfort Zones," an uncomplimentary reference to an alternative to inflation targeting that called for the Fed to set a vague "comfort zone" for the acceptable level of inflation. "Putting the 'shm' before a word is a way to cast a bit of skepticism on it," he explained to a Lexington, Virginia, audience unaccustomed to Yiddish-spouting New Yorkers. "Thus, if your friend tells you that you are 'fancy, shmancy,' then you might be overdressed for the occasion …"
Disclaimer
The views expressed in this post are those of the author and do not necessarily reflect the position of the Federal Reserve Bank of New York or the Federal Reserve System. Any errors or omissions are the responsibility of the author.
---
Amy Farber is a research librarian in the Federal Reserve Bank of New York's Research and Statistics Group.

How to cite this blog post:

Amy Farber, "Historical Echoes: Echoes, Schmechoes, This Post Only Has a Drop of History in It," Federal Reserve Bank of New York Liberty Street Economics (blog), May 6, 2016, http://libertystreeteconomics.newyorkfed.org/2016/05/historical-echoes-echoes-schmechoes-this-post-only-has-a-drop-of-history-in-it.html.