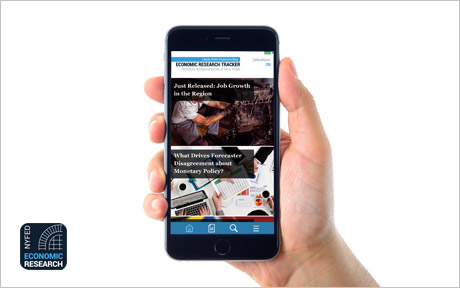 The Federal Reserve Bank of New York today announced the launch of its Economic Research Tracker app for the iPhone®. The app, which highlights the insights and analysis of New York Fed economists, was first introduced last year for the iPad®. Today's launch makes the app even more accessible to readers.

This easy-to-use app, which is free to download in the App Store®, contains the full catalogue of Liberty Street Economics blog posts, as well as access to our economists' profiles, which provide details about their research interests and publications. The Economic Research Tracker is also customizable, allowing users to filter blog posts by topic—such as housing, labor economics, monetary policy, and regional analysis—or by author. The app can also be used offline, so readers can view content after disconnecting from the Internet—for example, when they are commuting.
Offering easy access to the more than 775 blog posts already published on Liberty Street Economics and the profiles of sixty-plus Ph.D. economists with a wealth of new insights to share, the app is an ideal way to delve into key areas of interest from any location.
As we continue to bolster its content and capabilities, we encourage you to download the app today.
Disclaimer
The views expressed in this post are those of the author and do not necessarily reflect the position of the Federal Reserve Bank of New York or the Federal Reserve System. Any errors or omissions are the responsibility of the author.
---


Joseph Tracy is an executive vice president and senior advisor to the president of the Federal Reserve Bank of New York.
How to cite this blog post:

Joseph Tracy, "Now on Your iPhone: The Economic Research Tracker," Federal Reserve Bank of New York Liberty Street Economics (blog), September 9, 2016, http://libertystreeteconomics.newyorkfed.org/2016/09/now-on-your-iphone-the-economic-research-tracker.html.