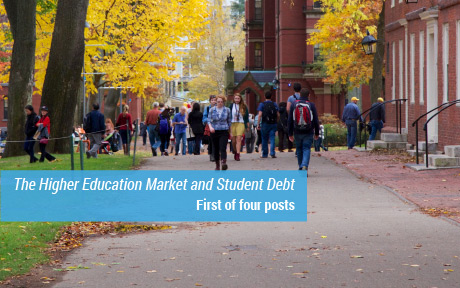 The past decade and a half has seen dramatic changes in the higher education landscape, characterized by significant growth in enrollment. This growth has been concentrated mostly in for-profit schools, where enrollment skyrocketed in the first decade of the period, nearly quadrupling between 2000 and 2011. The post-2011 period has been marked by an abatement of this growth. These patterns have strong implications not only for the higher education market but also for the labor force and the economy more broadly. Therefore, it is essential to understand the evolution of the different sectors of higher education over the last sixteen years; in this post we aim to do just that. How have the different sectors of higher education changed during this period, in particular the for-profit sector? Is the story here more about enrollment in existing schools, or were there differential entries and exits of for-profit schools? This post is the first in a four-part series looking at different aspects of the changing higher education market, including enrollment growth and its composition, student loans, and student loan defaults.
Striking Growth of For-Profit Enrollment
As the chart below shows, the vast majority of undergraduate students study at public institutions, though the market is more fragmented for four-year schools than for two-year and less-than-two-year schools. Among students studying at two-year and less-than-two year schools, more than 90 percent are at public two-year institutions, as shown in the left panel. The startling growth of four-year, private for-profit institutions can be seen in the right panel (light blue line). Though four-year for-profit schools represented the smallest category in 2000, with only 188,000 students (less than half the number of the next-smallest category, elite private schools, with 418,000 students), by 2011 more students were enrolled in these schools than in public flagship universities or elite private schools (see Lovenheim and Reynolds [2013] for more details on school types). Enrollment at four-year for-profits has since declined, but in 2015 there were still more than twice as many students enrolled in private for-profit schools as in elite private schools.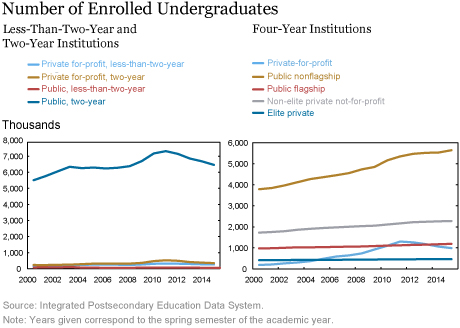 Among four-year institutions, the growth in enrollment at private for-profit schools has dwarfed all other growth, as seen in the chart below, which shows levels of enrollment relative to the 1999-2000 academic year. Between 2000 and 2011, enrollment in these institutions increased by a factor of seven. Enrollment at public nonflagship institutions, the category that experienced the next-highest level of growth, increased by 41 percent over the same time period. This growth is impressive, although it pales in comparison to the expansion of the for-profit sector.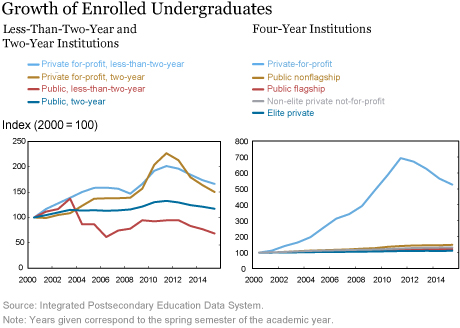 Among both two- and four-year institutions, there was a notable drop-off in enrollment at for-profit schools between 2011 and 2015. These declines, however, are smaller than the pre-2011 growth in these sectors. Taken as a whole, for-profit enrollment grew by 66 percent between 2008 and 2011, before declining by 25 percent between 2011 and 2015.
Higher Education Sees Post-Recession Bounce
As we break these trends down further we see that, at for-profit less-than-two-year and two-year institutions, two periods of high growth dominate a general upward trend in enrollment: 2000 to 2005 and 2008 to 2011. Though they started from very small levels of total enrollment, two-year and less-than-two-year private for-profit schools increased their enrollment by 63 percent and 37 percent, respectively, between 2008 and 2011. Interestingly, these two periods followed the last two recessions in the U.S. economy and were themselves followed by declines in enrollment growth after each recession. This pattern is consistent with the countercyclical nature of enrollment—workers displaced from the labor force may have chosen to go back to college for a quick retraining or retooling before returning to the labor force. Moreover, the opportunity cost of enrollment in terms of foregone wages is lower during a recession, which can spur increased enrollment. Public two-year and less-than-two-year schools show a similar, albeit less pronounced, trajectory. Both of these sectors saw modest growth in enrollment following the recessions, before experiencing moderate declines in later years.
While these trends are much more visible at two-year and less-than-two-year institutions, they can also be observed in the four-year institutions following the 2008 recession: enrollment at four-year, public nonflagship institutions rose 13 percent between 2008 and 2011, compared with just 9 percent between 2005 and 2008. Enrollment at private for-profit institutions grew by 77 percent between 2008 and 2011. Collectively, the four-year sector grew by 47 percent between 2000 and 2011 but only by 2 percent between 2011 and 2015.
For-Profits Increase Dominance of Less-Than-Two-Year Market,

Grow Share in Four-Year Sector
The less-than-two-year market, which accounts for roughly 1 percent of all undergraduate students, is dominated by for-profit institutions, which have long represented more than half the students in the category. But the boom years of 2003 to 2006 allowed the for-profits to increase their share even further, from 65 percent to 81 percent. This increase in share came almost entirely at the expense of public institutions in the category, which saw their share halved from 30 percent in 2003 to 15 percent in 2006. Nonprofits in the less-than-two-year sector have generally held steady at between 3 percent and 5 percent of enrolled students.
Conversely, two-year institutions are almost entirely dominated by public community colleges. Although for-profit schools have experienced much growth in this sector, rising from 4 percent of enrolled students in 2000 to 7 percent in 2011, they are still minor players. And two-year private not-for-profit schools (not shown in the charts) never accounted for more than 2 percent of enrolled students in the 2000-2015 period.
Among four-year institutions, private for-profit schools gained share at the expense of almost all of the other categories, rising from 3 percent in 2000 to 13 percent in 2011. While the share of students enrolled at public nonflagship schools remained unchanged between 2000 and 2015, each of the other higher education sectors aside from for-profits saw erosion in their share of enrolled undergraduates. Though the share of enrolled undergraduates at for-profit institutions has declined since 2011, falling to 9 percent in 2015, these schools show no signs of giving back all of the gains they made between 2000 and 2011.
How have these changes in the numbers of enrolled students been reflected in changes in the number of institutions? The chart below shows changes in the number of institutions in each sector between 2000 and 2015. It is clear that most of the change in the numbers of students can be explained by existing schools adding and reducing their enrollments, because the number of institutions does not change as strongly from year to year as the count of students. However, in post-recession years, the number of for-profit schools increases in the face of higher demand, and interestingly, decreases toward the end of the period as demand shrinks. This trend is observed among less-than-two-year, two-year, and four-year for-profit institutions. These trends underscore the flexibility and agility of the for-profit sector, as private nonprofit and public schools do not appear to respond to these market forces. This pattern of growth of the for-profit schools lends credence to their characterization as "nimble critters" by Deming et al (2012), able to appear or disappear, expand or contract in the face of corresponding changes in demand.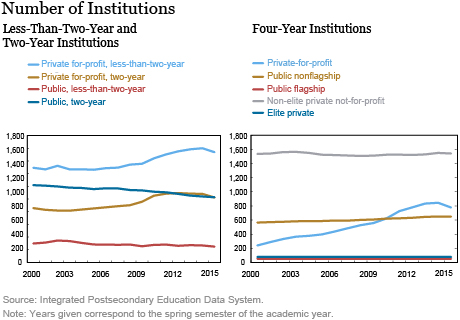 Conclusion
The singularly striking feature of the higher education market over the last decade and a half has been the growth of for-profits in each of the less-than-two-year, two-year, and four-year markets: in 2015, nearly three times as many students attended for-profit schools as did in 2000, and there were 36 percent more for-profit schools. Also of interest is the clear countercyclical nature of the postsecondary education market, as the years immediately following the 2007-09 recession saw huge increases in the number of students (a 16 percent increase between 2008 and 2011) followed by a sharp decline between 2011 and 2015, when enrollment dropped 5 percent across all sectors. This decline was driven in large part by the for-profit schools. The post-recession period was also characterized by an aggressive expansion in the number of for-profit schools across all three sectors (less-than-two-year, two-year, and four-year, though for-profit enrollment is still overwhelmingly concentrated in the less-than-two-year institutions) and a decline in the number of for-profits when the labor market improved and demand eroded. Clearly, the for-profit schools have the flexibility and agility to respond to market changes. In our upcoming posts, we will explore the student populations that led to this growth in enrollment and analyze how student loans, graduation, and loan defaults changed in the various postsecondary sectors.
Disclaimer
The views expressed in this post are those of the authors and do not necessarily reflect the position of the Federal Reserve Bank of New York or the Federal Reserve System. Any errors or omissions are the responsibility of the authors.
---

Rajashri Chakrabarti is a senior economist in the Federal Reserve Bank of New York's Research and Statistics Group.
Michael Lovenheim is an associate professor at Cornell University and a faculty research fellow at the National Bureau of Economic Research.
Kevin Morris was a senior research analyst in the Federal Reserve Bank of New York's Research and Statistics Group.
How to cite this blog post:

Rajashri Chakrabarti, Michael Lovenheim, and Kevin Morris, "The Changing Higher Education Landscape," Federal Reserve Bank of New York Liberty Street Economics (blog), September 6, 2016, http://libertystreeteconomics.newyorkfed.org/2016/09/the-changing-higher-education-landscape.html.