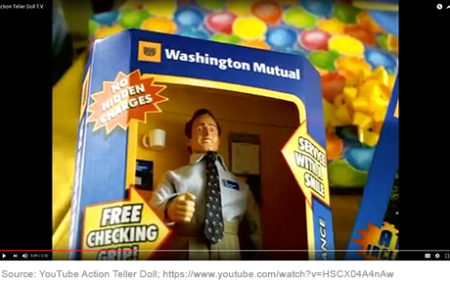 This is a story about a humorous bank ad that morphed into a promotional campaign. It's a tale that shares themes with four previous Historical Echoes posts about Barbie, bank promotions, and bank tellers.

The story starts in 2001 when Washington Mutual (WaMu)—then the country's largest savings and loan—produced a television ad featuring a birthday boy eagerly opening a gift from his parents to find toys he had hoped for, a bank teller action figure and mini bank branch! The boy is then offered a wrapped gift from his grandmother, wishes out loud for a loan consultant doll, and gets his wish! [Zoom in on the toy] Special attention was given by the ad's creators to the packaging of this imaginary doll. So appealing was the toy in the ad that the marketing department at WaMu started receiving letters and calls from people asking how they could get one of these action figures. So began the promotional campaign.
The bank produced two versions of the bank teller doll. Here's how an August 2001 Seattle Times article described them:
The Washington Mutual Action Teller comes in two versions: an African-American female and a Caucasian male.

The man is in standard dress code for the bank's Occasio (style) branches: khakis, a denim chambray shirt, supershiny brown loafers and a sweater vest emblazoned with a Washington Mutual logo.

The woman, with an Oprah hairdo, wears a WaMu-logo blue oxford and a khaki skirt. The two also come with sportier shorts-and-polo volunteer outfits, tote bag and cell phone.

Real-life WaMu tellers, however, are not provided with wireless phones and are allowed to wear black pants if they wish, spokeswoman Sheri Pollock said.

Each doll costs $19.95 and can be ordered at the thrift's branches or online.

In comparison, a McDonald's Barbie made by Mattel costs $16.99 and comes equipped with a tray of McDonald's food, headset, infant Kelly, a tiny cash register and even tiny bills to fit inside.

Action Teller does not come with fake, or real, money.

The dolls aren't exactly Barbie quality, either. Seams run up the figures' legs, and the male teller has plastic molded hair and two prominent craters in his back where the screws go.

Female Action Teller fares slightly better with painted white panties, but her high heels require rubber bands to stay on her feet.
Representatives of WaMu played it straight. A 2004 Associated Press article, "Banking on Friendliness: Community Banks Add Personal Touch," stated:
At Seattle-based Washington Mutual, a "teller action doll" is given to customers at special promotions.

"It's the teller as superhero–it's a way of drawing attention to our unique style of banking," said Mary Kelley, Washington Mutual's senior vice president of corporate communications.
But . . . come ON. The bank had a history of edgy advertising, sometimes critical of bankers and the banking industry. There would be no way the doll promotion could be taken as anything other than humorous (although the ad is probably more fun than actually owning the doll). And there are signs that the promotion could have grown much larger. The website of the doll's designer includes a sample package that reads:
*COLLECT ALL SIX*
*ACTION TELLER
*BANK PRESIDENT
*LOAN CONSULTANT
*PERSONAL FINANCE REP.
*CUSTOMER SERVICE REP.
*FRIENDLY SECURITY GUARD
A promotional video posted by the marketing firm responsible for the original ad, in which the dolls are blinking and talking about what a huge success the marketing campaign is (and thanking Brad, their "creator" for their existence), contains a December 2004 news broadcast about the dolls. In an NPR Morning Edition interview with Brad Davis, WaMu senior vice president in charge of marketing, the interviewer, after admitting that he and his colleagues originally thought that the ad must be a Saturday Night Live sketch, asks:
Q: Are people actually buying this thing?
A: Hundreds and hundreds of people have bought them. . . .

Q: Can these things perform some kind of accounting tricks?
A: They don't perform any accounting tricks that I know of. They're just out there making the world of banking a better place for all mankind.
In a world in which one can purchase a cat lady action figure, an obsessive compulsive action figure, and even a Ben Bernanke action figure, WaMu's bank humor from the early 2000s may seem tame to some. But for us here on Liberty Street, the joke continues to work. Although WaMu failed and was absorbed by JPMorgan Chase in 2008, it is still possible to purchase the Action Teller figures online with the packaging fairly intact. Run don't walk—rather, click NOW!
Disclaimer
The views expressed in this post are those of the author and do not necessarily reflect the position of the Federal Reserve Bank of New York or the Federal Reserve System. Any errors or omissions are the responsibility of the author.
---
Amy Farber is a research librarian in the Federal Reserve Bank of New York's Research and Statistics Group.
How to cite this blog post:
Amy Farber, "Historical Echoes: The Bank Teller Action Figure, or It's All in the Packaging," Federal Reserve Bank of New York Liberty Street Economics (blog), October 17, 2016, http://libertystreeteconomics.newyorkfed.org/2016/10/historical-echoes-the-bank-teller-action-figure-or-its-all-in-the-packaging.html.