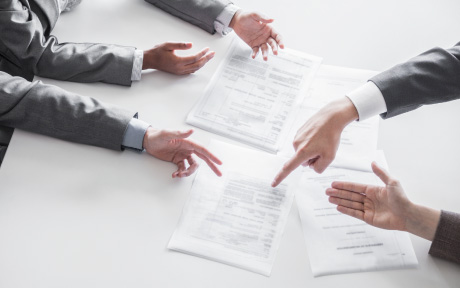 Yesterday's June Empire State Manufacturing Survey pointed to a significant increase in regional manufacturing activity. However, our parallel survey for the region's service sector, the June Business Leaders Survey, released today, paints a somewhat dreary picture of regional service-sector activity. These two surveys, taken together, suggest that economic conditions in the New York-Northern New Jersey region are mixed.

The two business surveys are designed to provide timely indications of regional economic conditions. In particular, the surveys' headline indexes, which reflect respondents' views about recent changes in business activity, are widely followed as regional indicators. But these indexes can also give some clues as to the outlook for the national economy. (Those who are not familiar with the surveys or how the indexes are computed can view methodology for both the services and manufacturing surveys.)
The manufacturing sector survey for June was unambiguously positive: after dipping to a level near zero last month, the headline general business conditions index surged to its highest mark in almost three years, and most of the measures of both current and expected activity also gave very positive signals. Aside from a temporary lull in May, the Empire Survey has pointed to an ongoing expansion in manufacturing activity in New York State that has lasted for several months.
While the manufacturing sector is certainly important, the service sector accounts for a much larger share of regional economic activity. And on the services side of the ledger, things don't look quite as bright. Since the beginning of this year, the headline index for the Business Leaders Survey has been barely positive, meaning that more survey panelists say activity is increasing than say it is decreasing, but only by a small margin. Even so, this modestly positive reading is an improvement from where the index was during the second half of last year, when it was consistently below zero.
So why aren't more service-sector businesses seeing the same kind of improvement that manufacturers seem to be experiencing? One possible factor may be a struggling retail sector—a number of retail chains have announced store closings, and our latest Beige Book report notes high and rising retail vacancy rates as well as sluggish sales. But another factor that may be holding back growth in the region is a shortage of qualified workers—in a recent supplemental survey, an increasingly large proportion of service-sector businesses in the region said that finding qualified workers was a top concern.
Yet despite a somewhat lackluster assessment of current conditions, service-sector business leaders remain fairly optimistic about the near-term outlook: 45 percent of those surveyed expect business activity to pick up in the next six months, nearly 40 percent plan to ramp up employment over that same time frame, and 35 percent plan to raise capital spending. Meanwhile, fewer than 15 percent expect each of these measures to decline. Our June survey results suggest that while the manufacturing sector has been doing well, the services side of the regional economy is not growing particularly strongly; nevertheless, the service sector seems poised to expand in the months ahead.
Disclaimer
The views expressed in this post are those of the authors and do not necessarily reflect the position of the Federal Reserve Bank of New York or the Federal Reserve System. Any errors or omissions are the responsibility of the authors.

---
Jason Bram is an officer in the Federal Reserve Bank of New York's Research and Statistics Group.

Richard Deitz is an assistant vice president in the Bank's Research and Statistics Group.

How to cite this blog post:

Jason Bram and Richard Deitz, "Just Released: June Regional Business Surveys Paint a Mixed Picture," Federal Reserve Bank of New York Liberty Street Economics (blog), June 16, 2017, http://libertystreeteconomics.newyorkfed.org/2017/06/just-released-june-regional-business-surveys-paint-a-mixed-picture.html.