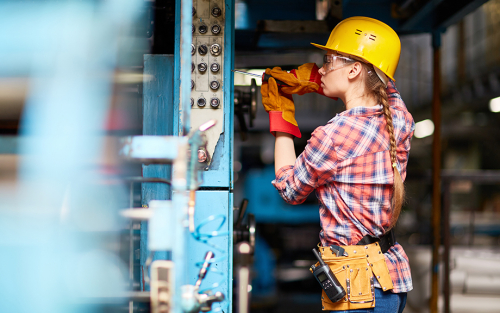 All in all, the upstate New York economy fared pretty well during the last business cycle. Job losses were less severe in upstate New York during the Great Recession than they were for the nation as a whole, which was quite unusual. And once the jobs recovery began in 2010, employment in upstate New York started to grow again, though at a pace well below the nation's. The result of this slow but steady recovery was that by mid-2015, upstate New York had gained back all of the jobs that were lost during the Great Recession—a milestone the region had failed to reach at all during the prior few business cycles. Troublingly, though, job growth in the region stalled shortly after crossing this milestone. Indeed, only a handful of jobs have been added to the area's total employment count since early 2016. In this blog post, we explore the nature and magnitude of this slowdown in upstate New York.
Job Growth in Upstate New York Has Stalled
Though the Great Recession officially ended in June 2009, it wasn't until February 2010 that jobs began to grow again both nationally and in upstate New York. The chart below plots total employment in upstate New York compared with the United States through the current expansion, with each indexed to 100 in February 2010. These employment data are based on the Current Employment Statistics series, and are "early benchmarked" using data from the Quarterly Census of Employment and Wages (we use a technique similar to this).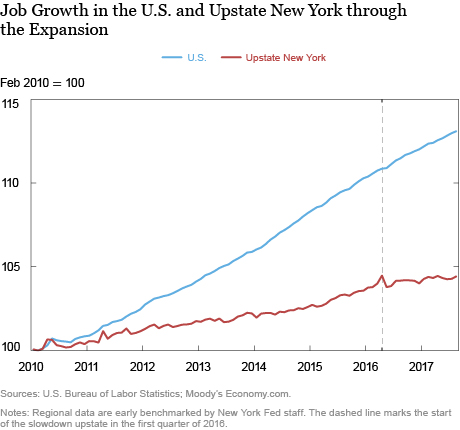 The chart shows that job growth in upstate New York was sluggish during the expansion, running at a 0.6 percent annual pace into early 2016—less than half the national pace of 1.6 percent over this same period. This pattern is neither unusual nor terribly surprising, as job growth in upstate New York has tended to be well below that of the nation for decades. However, beginning in 2016, job growth upstate stalled at a time when the United States as a whole continued to add jobs at a steady pace. Indeed, since early 2016, job growth in the region has slowed to a paltry 0.3 percent annual rate—half the pace of growth the region experienced earlier in the expansion. Where is this slowdown in job growth coming from?
Weakness in Western New York
One of the reasons job growth has slowed is that weakness has emerged in Western New York. The chart below shows annual job growth for the ten metropolitan areas in upstate New York, sorted by size, for two time periods: earlier in the expansion (2010–2016), and when the slowdown began (2016 through mid-2017). The tide has clearly turned in the two largest economies in upstate New York. Beginning in early 2016, job growth slowed to a crawl in Buffalo, and Rochester has actually lost jobs over the past year and a half.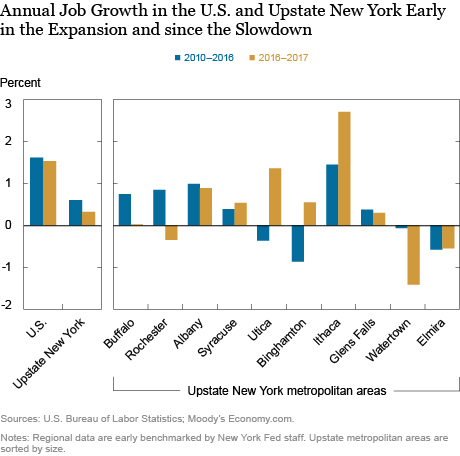 In Buffalo, the slowdown has been driven by steep declines in the region's manufacturing, retail, and business services sectors. In addition, job growth in Buffalo during the expansion had been buoyed by a surge in construction jobs associated with major projects such as the SolarCity factory and Buffalo Niagara Medical Campus. As these projects have wound down, so too has construction-related employment. On the upside, over the past year or so, job growth has actually accelerated in the region's healthcare, education, and finance sectors, and the government sector has started to add jobs after contracting for some time, though these gains have been largely offset by declines in the aforementioned sectors. And, broadly speaking, some of the slowdown in job growth may actually reflect impediments firms are facing finding workers in the area's tight labor market.
Perhaps more concerning, the Rochester area has experienced an outright decline in employment since early 2016. This downturn can be traced to ongoing weakness in manufacturing—the region has lost more than 4,000 manufacturing jobs since 2010—as well as job losses in the region's retail and business services sectors. While the education and health care sectors continue to be the main sources of job creation in the region, gains in these and other industries have not been able to make up for job losses in the three fairly large and important industries previously mentioned.
In addition to weakness in Western New York, employment declines had already been occurring in Watertown and Elmira before the upstate slump began in early 2016, and these losses have accelerated, driven by employment declines in both metro areas' manufacturing, construction, and government sectors.
Not All the News Is Bad
While the expansion in upstate New York as a whole has lost some steam since early 2016, some parts of the region have actually seen a pickup in job growth. The Utica and Binghamton economies, which had continued to decline through much of the expansion, have steadied and have now begun to add jobs. In both places, the manufacturing sector has stabilized after decades of deindustrialization, and the government sector is no longer shedding jobs. In addition, job growth has accelerated in Ithaca and remained fairly steady in Albany, Syracuse, and Glens Falls. Bucking the trend in upstate New York more generally, the manufacturing sector in Albany and Syracuse has seen some modest job gains over the past year or so. By and large, however, the places that have experienced a pickup in job growth over this period are relatively small in size, so these additional gains are more than offset by the weakness that has emerged in Western New York.
Disclaimer
The views expressed in this post are those of the authors and do not necessarily reflect the position of the Federal Reserve Bank of New York or the Federal Reserve System. Any errors or omissions are the responsibility of the authors.
---


Jaison R. Abel is a research officer in the Federal Reserve Bank of New York's Research and Statistics Group.


Richard Deitz is an assistant vice president in the Research and Statistics Group.
How to cite this blog post:

Jaison R. Abel and Richard Deitz, "Upstate New York's Expansion Is Losing Steam," Federal Reserve Bank of New York Liberty Street Economics (blog), October 13, 2017, http://libertystreeteconomics.newyorkfed.org/2017/10/upstate-new-yorks-expansion-is-losing-steam.html.