The New York Fed today unveiled a newly designed website on the regional economy that offers convenient access to a wide array of regional data, analysis, and research that the Bank makes available to the public. Focusing specifically on the Federal Reserve's Second District, which includes New York State, Northern New Jersey, Southwestern Connecticut, Puerto Rico, and the U.S. Virgin Islands, the new site also features information about the Bank's community engagement and outreach efforts across the region. With today's release, we are providing new regional economic précis for local areas in our District—that is, short reports that give an overview of economic trends in each location; these reports will be updated regularly as new data are released.

Below is a snapshot of the newly designed website, as well as a description of its four main elements: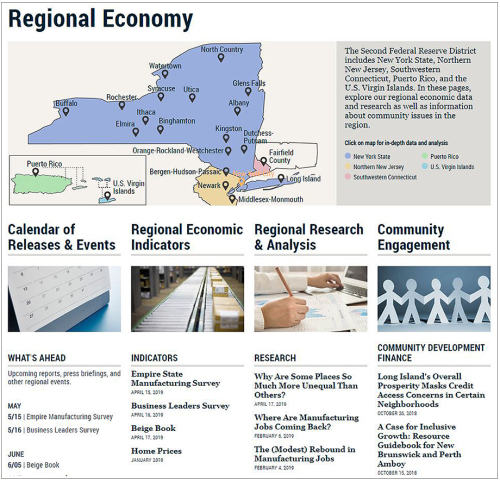 Calendar of Releases and Events
In this section of the website, we identify upcoming reports and data releases from the New York Fed that focus on the regional economy. We also highlight past and upcoming regional economic press briefings and other events we hold across the region.
Regional Economic Indicators
Here you will find links to data and other timely information we produce on the regional economy, such as our monthly business surveys and the
Beige Book. In addition, you can click on local areas within our District to see economic information about that area. Each area's webpage includes a table of descriptive statistics, as well as a short briefing package (here's one for Albany, for example) that presents charts on employment growth, population growth, and unemployment rates, among other measures. These charts will be kept up-to-date, so you can return regularly to see the latest trends in the regional economy.
Regional Research and Analysis
In this section, we provide links to our economists' Liberty Street Economics blog posts about the region, as well as other Federal Reserve reports and research papers on regional economic issues. Some recent research topics include
regional wage inequality, partnerships between community colleges and employers in New York State, and economic developments in Puerto Rico and the U.S. Virgin Islands. We also will post reports about regional business issues, such how firms are being affected by the increase in New York State's minimum wage, as well as updated information on local credit conditions and trends among small businesses.
Community Engagement
Here we provide information and reports about community development, such as assessing businesses' access to capital, as well as reports in support of the Community Reinvestment Act. We also have a section that details workforce development issues for our region. Finally, we provide information about regional visits by our Bank president, and post presentations our economists make on regional economic conditions across our District.
We hope our new website will be useful for those interested in learning more about the regional economy, or monitoring economic conditions for local areas within the Federal Reserve's Second District.
Disclaimer
The views expressed in this post are those of the authors and do not necessarily reflect the position of the Federal Reserve Bank of New York or the Federal Reserve System. Any errors or omissions are the responsibility of the authors.

---

Jaison R. Abel is an assistant vice president in the Federal Reserve Bank of New York's Research and Statistics Group.

Jason Bram is a research officer in the Bank's Research and Statistics Group.

Richard Deitz is an assistant vice president in the Bank's Research and Statistics Group.


Jonathan Hastings is a research associate in the Bank's Research and Statistics Group.
How to cite this blog post:
Jaison R. Abel, Jason Bram, Richard Deitz, and Jonathan Hastings, "Just Released: The New York Fed's New Regional Economy Website," Federal Reserve Bank of New York Liberty Street Economics (blog), April 18, 2019, https://libertystreeteconomics.newyorkfed.org/2019/04/just-released-the-new-york-feds-new-regional-economy-website.html.