Megan Cohen, New York Fed Research Library
The most expensive coin in the world, the famed 1933 Double Eagle, is on display to the public at the New York Fed. Its price at auction exceeded that of the gold Brasher doubloon, minted in 1787, which was sold for $7.4 million earlier this month. This post traces the 1933 Double Eagle's long, fascinating history, which stretches from the early twentieth century to the unusual circumstances of the coin's arrival at the New York Fed.

Twenty-dollar gold coins, commonly known as Double Eagles, were issued between 1850 and 1933. Production of all gold coins by the government ceased in 1933 after President Franklin Roosevelt issued Executive Order 6260, which largely prohibited the public from acquiring or holding gold.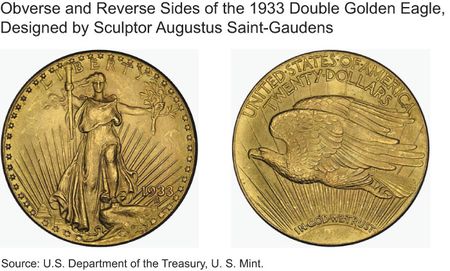 After the issue of this presidential order, two 1933 Double Eagles were placed at the Smithsonian and the rest of the gold coins were melted down—supposedly. In the decades that followed, it became clear that at least ten 1933 Double Eagles had escaped destruction. They had been stolen and sold to a number of people, including King Farouk of Egypt. The revelation of the theft resulted in extensive legal actions by the U.S. government to recover the coins. For more detail, see this timeline from the U.S. Mint.
In 2002, at the conclusion of these legal proceedings, a sole 1933 Double Eagle was "monetized" (that is, declared to be money and allowed to enter circulation) and then sold at public auction. The coin was purchased by an anonymous buyer for a record $7,600,020. The extra $20 in the purchase price—the face value of the Double Eagle—was necessary to establish the coin as legal tender. (For more about the auction, see the story that appeared in the New York Times the following day.) The buyer then lent the coin to the American Numismatic Society, which has displayed it at the New York Fed ever since.
Visit the Drachmas, Doubloons, and Dollars exhibit at the Federal Reserve Bank of New York's museum if you'd like to take a look at the 1933 Double Eagle's legendary beauty.
Disclaimer
The views expressed in this blog are those of the author and do not necessarily reflect the position of the Federal Reserve Bank of New York or the Federal Reserve System. Any errors or omissions are the responsibility of the author.