Megan Cohen
Looking far back, all the way to the Middle Ages, people were in many ways very
similar to those living today. Households acquired items of value, including
currency. In those times, when the question of where to keep money arose,
people didn't typically have the option of a local bank. Instead, the answer
oftentimes involved keeping their valuables in a vessel made of pygg.


What was pygg, exactly? Pygg, a word with Old English origins, was a type of dense orange clay, popular in Western Europe for its use in the creation of a wide variety
of containers, jars, and cups. The common name for these containers was "pygg
jars." As the pygg jars were fairly ubiquitous, they were used for storing a
variety of items, including money.

The transition of usage of the phrase "pygg jars" to that of "piggy banks" arose from a natural evolution in the English language. People continued to call their money-saving containers "pygg jars," and then "pig banks," well after they were made out of other materials. Eventually, the clay origins were forgotten, the meaning of "pig" in this instance shifted to that of the animal, and craftspeople created piggy banks shaped like pigs as we know them today.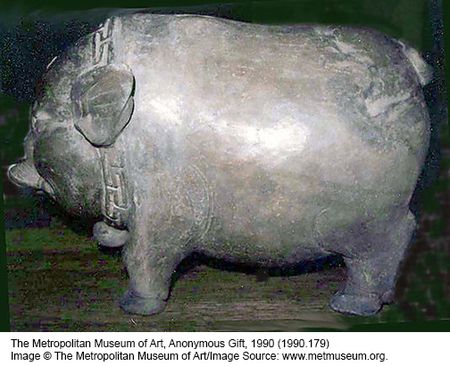 The concept apparently went global early. One of the oldest examples of a piggy bank is a fifteenth-century
Indonesian version currently held by the Metropolitan Museum of Art.
Disclaimer
The views expressed in this post are those of the author and do not necessarily reflect the position of the Federal Reserve Bank of New York or the Federal Reserve System. Any errors or omissions are the responsibility of the author.
---



Megan Cohen is a research librarian in the New York Fed's Research and Statistics Group.