Marja Vitti
We've already talked about clams being used as money as late as 1933, but some genuine clam shells found during the construction of the New York Fed's building at 33 Liberty Street sparked both geological interest and many witty remarks about "clams" being fossilized under a bank.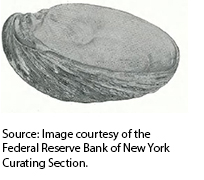 It was 1921 when the New York Fed finally broke ground on their construction project. The excavation began that summer, and with it, foundation work that was deemed the largest undertaking in New York City at that time because the basement floors extended five stories underground to accommodate the vaults. The project broke every city record for yardage excavated, and the workers were the first to tunnel so deeply under that portion of Manhattan Island.
     The surprising geological discovery was made a few months into the excavation. The clam shells were found embedded in the clay, sand, and rock when the digging had reached its deepest point at around one hundred feet below street level and more than sixty feet below sea level. The find generated interest amongst the workmen, Federal Reserve officials, and those Fed employees who were geology aficionados. Because of the shells' unusual location and appearance—they were thick and rough with uneven corrugations—the fossils were soon sent up to Cornell University and the American Museum of Natural History for further study.
     Several months later, the Federal Reserve Bank of New York published an article for the staff summarizing the findings about the prehistoric "Federal Reserve clams." They turned out to be a remarkable discovery because they indicated marine sedimentation in the New York City area during the Pleistocene era, or the late glacial period; the roughness and thickness of the shells signified that they were formed during cold climate conditions. Geologists, however, could not determine whether the clams were originally from the sea bottom that covered the area at that time or were carried later to that spot by flowing water.
Disclaimer
The views expressed in this post are those of the author and do not necessarily reflect the position of the Federal Reserve Bank of New York or the Federal Reserve System. Any errors or omissions are the responsibility of the author.
---


Marja Vitti is an assistant curator in the Federal Reserve Bank of New York's Legal Group.