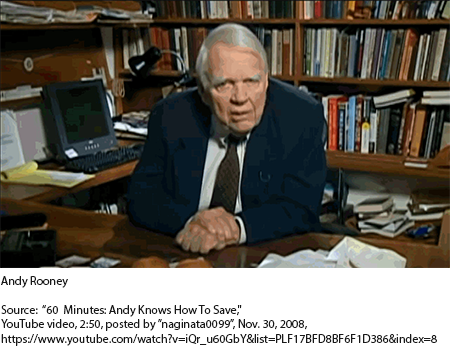 Did'ya ever notice how silly those Historical Echoes posts can get? Andy Rooney passed in November 2011 (see the New York Times obituary and the obituary from CBS), so he missed his chance to comment on the Liberty Street Economics blog (although here's a guy pretending to be Mr. Rooney talking about blogs). But while he was alive he sure had a lot of funny and insightful things to say on a lot of topics, including bank names.


Sometime in the late 1960s or 1970s, possibly before his regular gig as commentator at the end of 60 Minutes, he in fact did a piece called "Bank Names." It was published in 1981 as part of a compilation titled A Few Minutes with Andy Rooney, which was later combined with two other compilations and published as The Most of Andy Rooney in 1984. You can't sneak a look inside the 1984 title at any of the online book retail sites; however, you can purchase a used copy of it online for one cent (the last time we checked.) You also can't watch the broadcast of "Bank Names" online, unfortunately, but you can get an idea of Rooney's style from a 60 Minutes piece about thrift. Rooney seems to have been interested in and amused by all kinds of names: a search of the finding aid for the Andy Rooney Papers, 1922-2011 at the University of Texas reveals that at one time or another Rooney commented on team names, beauty parlor names, car names, boat names, street names, and farm names.

The "Bank Names" piece starts out by explaining why bank names are so similar to one another:
. . . A bank has to have a name that sounds important and honest, otherwise people would keep their money under the mattress where it belongs.

If a bank has connections in Washington, there's a law that says it has to call itself either National or Federal. After that, they can do what they want with their name and very few of them are satisfied with just one name like that, so they embellish it with something they feel makes it sound better.

They'll call themselves United National, Century National, Sterling National or Cosmopolitan National. National Bank of Pike City, National Bank of America, National Bank of Utah are all bank names. In Washington there's even a Hemisphere National Bank.

. . . They don't seem to worry much about making sense with their names. It's just got to have the right ring to it. Perpetual Federal Savings is the actual name of a bank.

The greatest bank name in America and perhaps in the world is the National Home Permanent Federal Savings and Loan. That has just about everything anyone would possibly want in a bank name. They don't make it clear whether it's the savings or the loan that's permanent but that's one of the mysteries that keeps us all interested in banks.

By "connections in Washington," Rooney is referring to the laws that require "Federal" to appear in the names of federal savings banks and federal savings and loan associations, and "National" to appear in the names of national banks. (See the FDIC Consumer Financial Rights page and look under "State Laws" for the details.)

You can see where all these very similar-sounding bank names started in the List of Member Banks by Groups in Federal Reserve Districts as of May 27, 1914. Here, all the names have "National" in them and the names are very slight variations on a theme. If that was 1914 and Rooney was giving his opinion in the late 1960s or early '70s, then there wasn't much evolution in bank names over that time period. After describing how banks like to have "American" and "Trust" in their names, Rooney continues:
Banks not only like being National, Federal, American, Home and Trusted, they also like being First. The First National Bank of Almost Anywhere, First Union Bank, First Savings and Loan. (In New York there's a Ninth Federal. This is strange because where there's a First Federal, there doesn't seem to be any Second, Third or Fourth Federal, let alone an Eighth. Bookkeeping error, probably.)

In wondering what one would not want to name a bank, Rooney offers up toward the end of the piece a few ludicrous hypothetical bank names:
Just as there are names banks favor, there are names they'd never think of using. Certain businesses seem to preempt groups of names for themselves. Acme, for instance, is most apt to be an exterminating service or a dry cleaner. You wouldn't call a bank the Acme Permanent Home Trust. AAA is a name reserved for car-repair shops and people who fix radiators.

Bel Air is popular everywhere as the name of a roadside motel. You wouldn't find a Bel Air Bank in any town that wasn't called Bel Air itself. Nor would any financial institution call itself a Bankorama or Bankland or Bank City. Those are supermarket names.

All that may be changing, though. Read a 2013 article about ING Direct Canada changing its name to Tangerine, a 2014 article about GE Capital Retail Bank changing its name to Synchrony Bank, or, say it isn't so, the website for Redneck Bank.
Disclaimer
The views expressed in this post are those of the author and do not necessarily reflect the position of the Federal Reserve Bank of New York or the Federal Reserve System. Any errors or omissions are the responsibility of the author.
---
Amy Farber is a research librarian in the Federal Reserve Bank of New York's Research and Statistics Group.