The New York Fed's January Business Leaders Survey indicates that the regional economy kicked off the New Year on a positive note. This monthly survey—which covers firms in the service sector in New York State, northern New Jersey, and southwestern Connecticut—dates back to 2004, and this month marks the one-year anniversary of its public release. In addition to showing a solid increase in regional economic activity, employment, and wages, January's survey signals that the regional economy has reached an important milestone: firms are saying that business conditions are finally back to normal for the first time since before the Great Recession.
One unique feature of the Business Leaders Survey that differentiates it from other similar surveys is that it includes a Business Climate Index. Unlike most diffusion indexes, which measure changes in an indicator from the prior month, this index gauges businesses' perceptions about the current level of economic activity, relative to a threshold. The particular question posed on the survey asks respondents to rate the current business climate as better or worse than "normal." An index value of zero indicates that, on balance, conditions are perceived as normal; a positive reading indicates that firms see conditions as better than normal, and a negative reading shows that firms see conditions as worse than normal.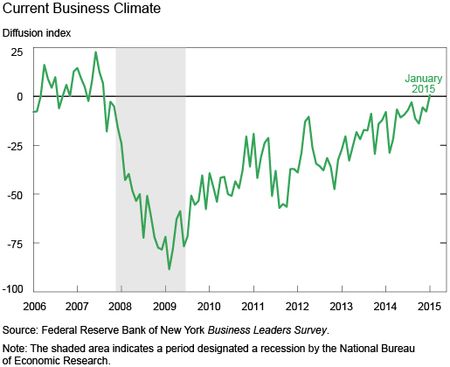 The chart above shows that the survey's Business Climate Index was generally positive before the Great Recession, but by late 2007, it had plunged quickly and deeply into negative territory, indicating that business conditions had deteriorated to what most respondents considered "worse than normal." Although the index generally trended upward once the recession ended in mid-2009, its value remained negative until this month. Finally, after more than seven years, in January, the Business Climate Index rose above zero to a level of 0.7, signaling that business conditions in the region appear to have returned to what the typical firm would consider normal.
There's no doubt that crossing this threshold represents an important milestone for the regional economy, and it fits squarely with recent data showing that regional consumer confidence is also at its highest level since before the Great Recession. Indeed, this welcome news about the local economy synchs well with other national indicators that suggest the economic recovery has gained momentum in recent months. That said, while reaching this milestone is encouraging, it will be important for the Business Climate Index to remain at or above zero for a sustained period to conclude that business conditions have truly turned a corner.
Disclaimer
The views expressed in this post are those of the authors and do not necessarily reflect the position of the Federal Reserve Bank of New York or the Federal Reserve System. Any errors or omissions are the responsibility of the authors.
---

Jaison R. Abel is a research officer in the Research and Statistics Group of the Federal Reserve Bank of New York.

Jason Bram is a research officer in the Research and Statistics Group.
Richard Deitz is an assistant vice president in the Research and Statistics Group.