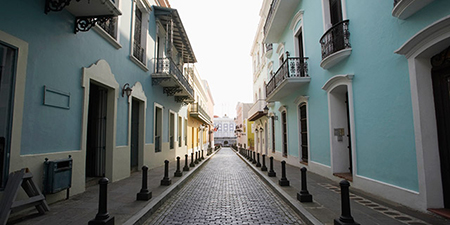 For the first time in modern history, Puerto Rico is seeing its population decline. This troubling loss can be traced to an exodus of Puerto Rican citizens to the U.S. mainland, a current that has picked up considerably in recent years as Puerto Rico's economy has deteriorated. Today, fully a third of those born in Puerto Rico now reside on the U.S. mainland. In this post, we examine the recent surge in out-migration that is driving Puerto Rico's population decline (which we delve into in more detail in a recent article in the New York Fed's Current Issues in Economics and Finance series), and then discuss measures the Island could adopt to address this troubling trend.


Puerto Rico's population peaked at 3.8 million residents in 2004. Since then, the Island's population has been falling. Over the last decade, the number of residents has dropped to 3.6 million—a loss of more than 5 percent of the Island's population.

While the population began to decline in 2005, the chart above shows that breaks in Puerto Rico's trend population growth rate actually began much earlier. Puerto Rico's annual population growth averaged about 1.7 percent during the 1970s, and then began to slow in the early 1980s. Between 1982 and 1992, the rate dropped by half, from 1.2 percent to 0.6 percent. Population growth picked up briefly between 1992 and 1996. But after 1996, a sharper and more sustained downward trend in the population growth rate began, and by 2013, the annual pace of decline totaled a full percentage point—a very significant loss in demographic terms.

Although a slowdown in the Island's birthrate has contributed to the population losses, the decline has been largely driven by an out-migration of Puerto Rican residents. The Jones Act of 1917 granted U.S. citizenship to the people of Puerto Rico, allowing them to move freely between the Island and the U.S. mainland. This mobility has led more Puerto Rican workers to leave the Island in greater numbers when economic opportunities have dwindled. In fact, Puerto Rico's economy has been particularly weak since 2005, driving workers off the Island in burgeoning numbers over the past several years.

In the chart below, we plot the net number of migrants per year—that is, the number of people coming to Puerto Rico from elsewhere (in-migrants) minus the number of people leaving the Island for other places (out-migrants). These figures show that, on net, the Island lost a fairly modest number of people owing to migration in the 1980s and early 1990s, on the order of about 10,000 residents per year. In the mid-1990s, things began to look different—at least for a time. From 1995 to 1997, in-migrants actually outnumbered out-migrants, contributing to an increase in the Island's population for three consecutive years. However, a net loss of residents resumed in 1998, and by 2000, when a recession hit Puerto Rico, the Island was losing more than 20,000 residents per year. Even sharper losses began in 2005, and by 2011, the Island's net loss due to migration totaled more than 45,000 people per year.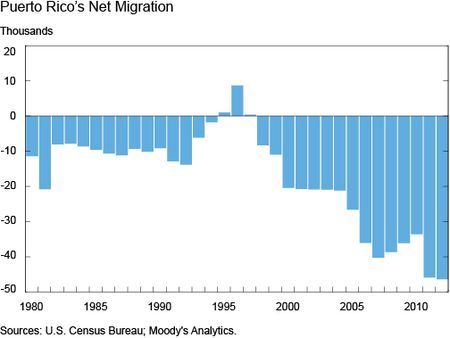 Who are these out-migrants, and why have so many been leaving the Island in recent years? When we look at demographic differences between those leaving the Island for the U.S. mainland and those that remain, we find that Puerto Rico's out-migrants tend to be younger and less educated. Using census data to identify the demographic characteristics of those who moved from the Island to the mainland between 2011 and 2013, as well as those who remained on the Island during those years, the chart below shows that about a third of Puerto Rico's out-migrants were aged 16 to 30, compared with a little more than 20 percent for the population as a whole. In terms of educational attainment, we find that the share of out-migrants who are high school dropouts or have only a high school diploma is higher than the corresponding share for Island residents. Conversely, the share of out-migrants with a college degree is lower than it is for Puerto Rico residents more generally.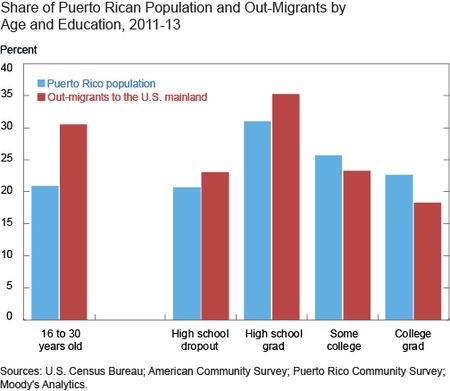 Many have expressed concern that Puerto Rico's out-migration has resulted in a "brain drain"—that is, the loss of its most educated, or highest-human-capital, citizens. While recent migration flows have no doubt reduced the number of citizens with a college degree in Puerto Rico, on balance, migration patterns have actually tilted the composition of those remaining in Puerto Rico toward being more college educated. The reason for this is the disproportionate rate of out-migration among lesser-educated Puerto Ricans. This does not mean that brain drain has not occurred or is not a concern, but rather that people with higher human capital are not particularly vulnerable to the forces leading to migration, when compared with those who have less than a college degree.

Indeed, it is not especially surprising that the young and less educated are overrepresented in the out-migrant population. In two recent reports published by the Federal Reserve Bank of New York—the Report on the Competitiveness of Puerto Rico's Economy (2012) and An Update on the Competitiveness of Puerto Rico's Economy (2014)—we find that unemployment is startlingly high and labor force participation alarmingly low for this group. Poor economic prospects for young and lesser-skilled workers have likely prompted them to seek work on the mainland.

Puerto Rico's recent surge in out-migration, together with the consequent population decline, presents a host of difficulties for the Island to overcome. A smaller population translates into a shrinking tax base, which in turn strains government finances. In addition, because Puerto Rico is losing a disproportionate share of its younger citizens, the aging of its population has accelerated. This demographic shift adds to the burden of supporting the Island's elderly population, who tend to be poorer and more intensive users of the health care system, and puts stress on already fragile pension systems. Together, these pressures can create a cycle of economic decay and further population losses that can be difficult to break.

Puerto Rico has an array of assets, including a favorable location and climate, an educated workforce, and close ties to the U.S. mainland. Given these assets, what can Puerto Rico do to turn the tide and stem its population decline? The clearest pathway seems to lie in strengthening the Island's economy. Without significant economic growth and the job creation that would follow, incentives to leave the Island will remain compelling. Current migration patterns suggest that it is particularly important for Puerto Rico to focus on improving job opportunities for younger, lower-skilled workers. Puerto Rico should also pursue reforms to address its fiscal crisis and find ways to improve the Island's amenities, in particular reducing its high crime rate. Together, these efforts can create economic opportunities for workers and make the Island more attractive to residents and businesses, helping to counter the Island's population decline. Certainly, such efforts will take time, and success is not guaranteed. But if significant measures along these lines are not taken, Puerto Rico's troubling out-migration will surely only continue.
Disclaimer
The views expressed in this post are those of the authors and do not necessarily reflect the position of the Federal Reserve Bank of New York or the Federal Reserve System. Any errors or omissions are the responsibility of the authors.
---

Jaison R. Abel is a research officer in the Federal Reserve Bank of New York's Research and Statistics Group.

Richard Deitz is an assistant vice president in the Bank's Research and Statistics Group.