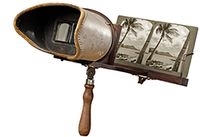 Within the New York Public Library Digital Collections is the Robert N. Dennis Collection of Stereoscopic Views. Stereoscopic photographs were viewed with a stereoscopic viewer or stereoscope. According to the "About" tab of the NYPL page for the collection, "During the period between the 1850s and the 1910s, stereos were a mainstay of home entertainment, perhaps second only to reading as a personal leisure activity." They also functioned as a way for people to travel vicariously, or as an aid to the study of history and other cultures. You know you've found an image meant to be seen with a stereoscopic viewer when it is double, with the images slightly askew from one another. The kinds of images that were particularly suitable as subjects for stereoscopic photography were those involving objects at varying distances from the viewer (for example, landscapes and cityscapes). (This is only one form of stereoscopy, which incorporates other technologies.)
The images are interesting, even if not viewed in 3D, but for those of you who feel you really want to have a mind-altering experience, you'll need a way to view them stereoscopically. This means you need to either find—or make—a viewer.
You can probably find a stereoscopic viewer on eBay. Or you can make your own—several internet sites teach you how to do just that. But if you're really feeling impatient (and impulsive!), you could, for example, grab some binoculars and smash them against a door jamb so that the lenses fall out! Or, perhaps a more reasonable approach might be to simply take two empty toilet paper rolls (or rolled paper, taped) and look through them. Get your right eye settled, so that the right paper roll is centered on the picture on the right while your left eye is closed; then do the same for the left. Focus your eyes forward until the image is both focused and in 3D. You can train yourself to create the 3D effect without the paper rolls, by simply focusing your eyes (similar to what you need to do with an autostereogram.) When it works, it can really work well. For example, you won't experience the true nausea you should for this image unless you view it stereoscopically.
Naturally, some lovely old bank buildings turn up in some of these city views. Many are from the Robert N. Dennis Collection mentioned above:
Five Cent Bank and Republican Block Springfield, Massachusetts, 1865-1885. It works well stereoscopically because of the trees in the foreground.

National Revere Bank Boston, Massachusetts, 1872.

Bank safes being guarded (after the San Francisco earthquake) San Francisco, California, 1906.

Union Dime Savings Bank New York City, 1860-70.

German Savings Bank New York City, 1860-70.

Erie County Savings Bank Buffalo, New York, 1865-1905. Is this a bank? It looks like a mansion. It may have been a temporary residence, as this page about a different building suggests.

Citizens National Bank Indianapolis, Indiana. We assume the bank is the building marked with the little "x" to the left of the Wholesale Drug House (sound suspicious?); a handwritten note says "Merrill Fields' Bank."

McLaughlin & Ryland's Bank San Jose, California, 1868-85. It may be the same entity as the San Jose Safe Deposit Bank of Savings.

Bank of San Diego San Diego, California, late 1800s. Same bank, different view. Looks like it's almost the only building for miles
And here's an entire page of stereo cards of bank buildings in San Francisco from the late 1800s.
Of course, now there's a technology race to come up with the most convincing virtual reality possible (necessitating the use of some kind of 3D imaging), so that we can all leave reality whenever we want to, for as long as possible!
Disclaimer
The views expressed in this post are those of the author and do not necessarily reflect the position of the Federal Reserve Bank of New York or the Federal Reserve System. Any errors or omissions are the responsibility of the author.
---
Amy Farber is a research librarian in the Federal Reserve Bank of New York's Research and Statistics Group.