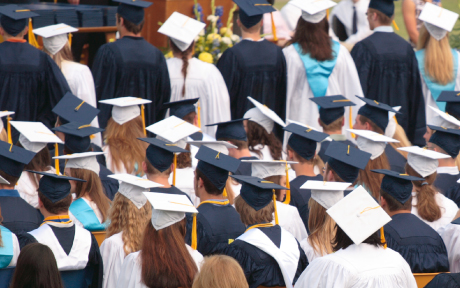 With the 2017 college graduation season in full swing, we thought it would be helpful to take stock of the job prospects for recent college graduates. Is now a good time to be graduating from college? Publications editor Trevor Delaney caught up with Jaison Abel and Richard Deitz, two economists in our Research and Statistics Group, to discuss some of their work on the labor market for recent college graduates.
Q: So, how's the job market looking for the class of 2017?
Abel: There's some good news for those graduating from college this year. All in all, the job market for college graduates is the strongest it's been since the Great Recession. First off, finding a job has gotten easier. The unemployment rate for recent college graduates—those age twenty-two to twenty-seven years old with at least a bachelor's degree—has fallen from greater than 7 percent in 2011, to just under 4 percent, its lowest level since before the Great Recession.
It's also gotten a little easier for college graduates to find a good job. The underemployment rate for recent college graduates—that is, the share of college graduates working in jobs that typically do not require a bachelor's degree—has been trending down for the past few years and is now at 43.5 percent. At the same time, median wages for newly minted college graduates have also been on the rise, increasing from just under $40,000 in 2012 to around $43,000.
Q: Wow, 43.5 percent underemployment—that seems like a big number. Why are so many recent college graduates underemployed?
Deitz: While 43.5 percent may seem like a big number, it's not nearly as bad as it sounds. To put this figure in perspective, we find that around one-third of college graduates of all ages work in jobs that do not typically require a college degree, with this figure holding fairly steady at all points in the business cycle. There are a number of reasons some college graduates may choose to work in a non-college job—for example, as a police officer, musician, or in the skilled trades—simply because they prefer that type of work, or sometimes there are other reasons, such as family considerations or geographic preferences. And, while some media reports may make it sound like most underemployed young college graduates are stuck working as a barista or in some other low-skilled service job, our research shows that only a small fraction of recent graduates worked in such jobs in the years following the Great Recession.
One reason underemployment tends to be high for new graduates is that there is often a period of transition as college graduates search for the right job. Indeed, the shift from college student to career can be quite challenging. In fact, underemployment rates tend to start fairly high for those who are fresh out of college, and then come down as these workers gain more experience—particularly those graduates who start their careers in a low-skilled service job. This is true in both good economic times and bad, though these transitions seem to take a bit longer when the economy is doing worse. So underemployment is often a temporary phase for a lot of people.
Q: Is there anything college students can do now to better position themselves to land a good job when they graduate?
Abel: There are certainly many things, but one thing that seems to make a big difference is their college major. Our research suggests some majors have much better labor market outcomes than others. In particular, graduates with majors that help build quantitative or technical skills have tended to see lower unemployment and underemployment than those with majors that are less quantitative. Also, those with majors that provide occupation-specific training have tended to fare better than those whose majors are more general.
For example, the underemployment rate for young chemical engineers and electrical engineers is around 20 percent, and for accounting majors it is about 25 percent, compared to an underemployment rate closer to 60 percent for those who major in fields like geography, communications, or fine arts. We also see that those with majors that are geared toward growing parts of the economy have tended to do relatively well. That is one reason why we see low unemployment and underemployment for those with majors in nursing, pharmacy, and education, as the health care and education sectors have generally been areas of growth in the U.S. economy.
Q: Do you have any advice to offer for graduates who are looking for their first job?
Deitz: It's important to have some perspective. Keep in mind, it's fairly common to be underemployed right out of school, and many graduates transition into better jobs as they gain experience. So, if you don't start your career with your dream job, you're not alone. It's also important to be patient. College is an investment that pays dividends over your entire working life. If you're a new graduate, you've just incurred the upfront costs of this investment in your human capital, but you have many decades to go to reap the economic benefits of your college degree.
Q: Where can someone get more information about the job prospects of recent college graduates?
Abel: In the course of doing our research, we found that it's actually quite challenging to find consistent, reliable, and timely data. To fill this information gap, we created a web interactive that contains data on the labor market outcomes for recent college graduates that we update regularly. Here you can get the latest unemployment and underemployment figures, and explore a wide array of labor market outcomes for graduates with different college majors. We hope that this web feature is a helpful resource for students, parents, policymakers, and anyone else interested in the job market outlook for recent college graduates.
Disclaimer
The views expressed in this post are those of the authors and do not necessarily reflect the position of the Federal Reserve Bank of New York or the Federal Reserve System. Any errors or omissions are the responsibility of the authors.

---

Jaison R. Abel is a research officer in the Federal Reserve Bank of New York's Research and Statistics Group.

Richard Deitz is an assistant vice president in the Bank's Research and Statistics Group.

How to cite this blog post:

Jaison R. Abel and Richard Deitz, "Hey, Economist! Is Now a Good Time to Be Graduating from College?," Federal Reserve Bank of New York Liberty Street Economics (blog), May 19, 2017, http://libertystreeteconomics.newyorkfed.org/2017/05/hey-economist-is-now-a-good-time-to-be-graduating-from-college.html.