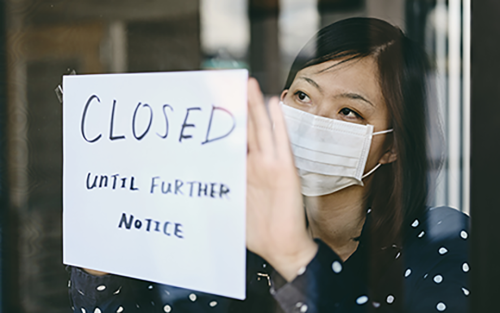 Indicators of regional business activity plunged to historic lows in early April, as efforts to slow the spread of the coronavirus kept many people at home and shut down large parts of the regional economy, according to the Federal Reserve Bank of New York's two business surveys. The headline index for both surveys plummeted to nearly -80, well below any historical precedent including the depths of the Great Recession. About 60 percent of service firms and more than half of manufacturers reported at least a partial shutdown of their operations thus far. Layoffs were widespread, with half of all businesses surveyed reporting lower employment levels in early April.
Business Activity Tumbles
Business conditions were exceptionally weak in early April, according to respondents of our Business Leaders Survey, which covers service firms in the New York-Northern New Jersey region, and our Empire State Manufacturing survey, which covers manufacturing firms in New York State. As the chart below shows, the headline indexes in both surveys plummeted to nearly -80 this month. By way of comparison, the lowest level these indexes reached before this month was in the -40 to -50 range during the depths of the Great Recession.
Business activity declined for roughly 85 percent of firms, with firms in the leisure and hospitality, transportation, education and health, and retail sectors being hit the hardest. Interestingly, about 7 percent of firms saw an increase in activity, including several manufacturers. Firms in the information, finance, and wholesale trade sectors fared better than firms in other sectors. Overall, more than half of firms said that the availability of inputs had declined. Manufacturers saw broad-based declines in new orders and shipments, and longer delivery times. Service firms were nearly universal in viewing the business climate—a measure of the current state of activity, rather than the change in activity over the month–as worse than normal, with the business climate index plunging to an astonishing -94.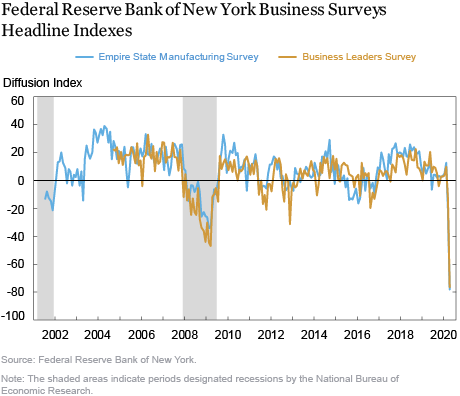 This month's surveys also asked a number of questions about the impacts of the coronavirus pandemic, summarized in our Supplemental Survey Report. Results indicate that only 40 percent of service firms and fewer than half of manufacturers said they were operating at or near normal levels. Around 45 percent of service firms implemented a partial temporary shutdown, as did about 42 percent of manufacturers. When asked about their expected operating situation by the end of April, the proportions were about the same. Fortunately, only a handful of all firms had implemented a permanent shutdown, whether partial or total, and very few expect to do so by the end of April.
Ongoing Mass Layoffs
Job cuts among firms surveyed were extensive. More than half of all firms reported cuts to payroll staff as of early April. Among those firms that did cut staff, the average decrease was about 40 percent among service firms and 35 percent among manufacturers. Among leisure and hospitality firms, the incidence and size of job cuts were considerably larger. In terms of adjustments to work arrangements, 60 percent of workers in the service sector were working from home, on average—ranging from about a third in retail and construction to around 80 percent or more in the finance, information, and education sectors—as were about a quarter of workers at manufacturing firms.
Weathering the Storm
Businesses in the region have major concerns about their ability to weather the economic storm caused by the coronavirus pandemic. Among the most significant, nearly nine in ten firms are concerned about collecting payables from customers. Well over 80 percent of firms are concerned about maintaining adequate cash flow as the economy has weakened—up sharply from when we first asked this question just a few weeks ago. Understandably, there is also widespread concern among firms about taking on too much debt. About half of all firms are concerned about their ability to access credit and make loan payments. In addition, 55 percent of service firms and 40 percent of manufacturers are concerned about their ability to make rent payments. Roughly three in five firms in both the service and manufacturing sectors expressed concern about maintaining solvency.
Firms are dealing with the abrupt change in economic conditions in a number of ways. More than 50 percent of service firms are drawing down cash reserves, as are about 45 percent of manufacturers. Lesser, though still significant, proportions of firms in both surveys report dipping into personal funds to cover revenue shortfalls. In terms of taking on debt, a third of firms report making increased use of existing lines of credit, while about one in five report taking on a new loan. Of note, small businesses in our surveys expressed widespread interest in the SBA Paycheck Protection Program, though there was significant uncertainty among small businesses about securing a loan. A relatively small proportion of businesses—10 to 15 percent—obtained a temporary reprieve on a loan or rent payment to help deal with the financial toll of the coronavirus pandemic.
Looking ahead
Service firms tended to be pessimistic that conditions would be better six months from now, though manufacturers did expect to see some slight improvement, on net. Overall, the median firm expects the economic disruption caused by the coronavirus pandemic to last another 3 to 4 months. We will continue to monitor economic conditions in the region and provide timely updates as additional data and information become available. You can also visit our Community Resource Center on the coronavirus pandemic where individuals, businesses, and non-profits can find out what's available to them at the federal, state, and local level.
Related Reading
New York Fed – Regional Economy resources page


Jaison R. Abel is an assistant vice president in the Federal Reserve Bank of New York's Research and Statistics Group.
<img class="chart asset-image at-xid-6a01348793456c970c025d9b469f28200c img-responsive" style="width: 41px; margin: 0px 5px 5px 0px;" alt="Jason Bram<" title="Jason Bram
Jason Bram is a research officer in the Bank's Research and Statistics Group.



Richard Deitz is an assistant vice president in the Bank's Research and Statistics Group.

How to cite this post:

Jaison R. Abel, Jason Bram, and Richard Deitz, "New York Fed Surveys: Business Activity in the Region Sees Historic Plunge in April," Federal Reserve Bank of New York Liberty Street Economics, April 16, 2020, https://libertystreeteconomics.newyorkfed.org/2020/04/new-york-fed-surveys-business-activity-in-the-region-sees-historic-plunge-in-april.html.
---
Disclaimer

The views expressed in this post are those of the authors and do not necessarily reflect the position of the Federal Reserve Bank of New York or the Federal Reserve System. Any errors or omissions are the responsibility of the authors.