2 posts on "home equity"
May 15, 2023
Total debt balances grew by $148 billion in the first quarter of 2023, a modest increase after 2022's record growth. Mortgages, the largest form of household debt, grew by only $121 billion, according to the latest Quarterly Report on Household Debt and Credit from the New York Fed's Center for Microeconomic Data.  The increase was tempered by a sharp reduction in both purchase and refinance mortgage originations. The pandemic boom in purchase originations was driven by many factors – low mortgage rates, strong household balance sheets, and an increased demand for housing. Homeowners who refinanced in 2020 and 2021 benefitted from historically low interest rates and will be enjoying low financing costs for decades ­to come. These "rate refinance" borrowers have lowered their monthly mortgage payments, improving their cash flow, while other "cash-out" borrowers extracted equity from their real estate assets, making more cash available for consumption. Here, we explore the refi boom of 2020-21–who refinanced, who took out cash, and how much potential consumption support these transactions provided. In this analysis, as well as the Quarterly Report, we use our Consumer Credit Panel (CCP), which is based on anonymized credit reports from Equifax.
May 19, 2021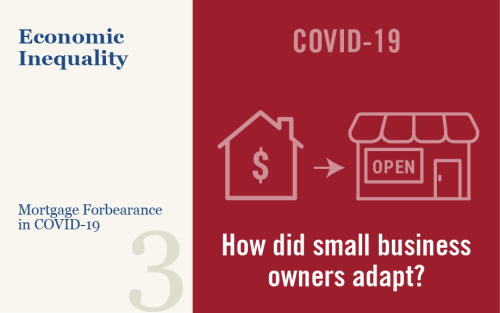 In our first post in this series we showed that mortgage provisions under the CARES ACT and its subsequent extensions resulted in a rapid take-up of mortgage forbearances, under which borrowers had the option to pause or reduce debt service payments without inducing a delinquency notation on their credit reports. Here we examine the forbearance take-up rate of a group of mortgage borrowers we expect to have been particularly hard hit by the pandemic recession: small business owners. Relatively little is known about how small business owners have fared over the past year in terms of their personal finances. Were they able to continue making mortgage payments on their homes? Did they draw on home equity to help fund their business operations?