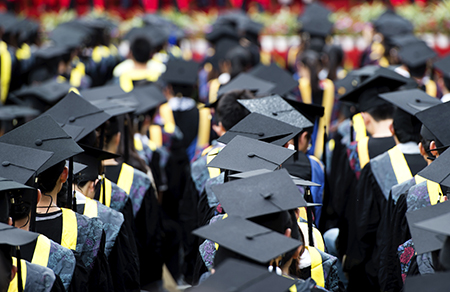 This morning, Jamie McAndrews, the Director of Research at the Federal Reserve Bank of New York, spoke to the press about the economic recovery, and his speech was followed by a special briefing by New York Fed economists on student loans. Here, we provide a short summary of the student loan briefing.
Increasing Balances, Increasing Number of Borrowers
The first portion of the special briefing on student loans described the outstanding aggregate balance and highlighted some changes in borrowing patterns. The aggregate student loan balance has increased steadily, even during the "great deleveraging," when the balances of other household debt types declined. While student debt may have historically been held by younger borrowers, the balances held by borrowers of all age groups have increased. In fact, the fastest growth has been in balances held by borrowers over age sixty, which increased 850 percent between 2004 and 2014. In 2004, 25 percent of student debt was held by borrowers over age forty; that share climbed to 35 percent by 2014. This change occurred primarily as a result of increases in the number of borrowers over forty, which grew at nearly double the pace of younger borrowers.
Decline in Active Borrowing
Although both the aggregate outstanding student loan balance and the number of individuals with outstanding student debt have been increasing steadily, we have recently seen a decrease in the number of active borrowers—borrowers originating new loans in each year. The number of active student loan borrowers peaked in 2010, at about 12 million, and is now down to about 9 million. This divergence in increasing aggregate balances and decreasing numbers of active borrowers stems from the low repayment rates; we'll delve into this topic in more detail below.
Influx of Lower-Income Borrowers during Recession, then a Retreat
We identify the Zip code of each borrower at the time they took out their first student loan, and then use the average income in that Zip code to categorize the borrowers into income groups. We find that while there was an inflow of borrowers of all economic backgrounds during the Great Recession, the sharpest growth was for borrowers from the lowest-income areas.
Default Transitions Improve
Looking at borrowers who transition into default each year, we find that there was a period of sharp increases—from about half a million borrowers ten years ago to 1.2 million annually in 2011 and 2012. However, in the last two years we've seen a small decline in the number of borrowers who transition into default. Accounting for the increase in borrowers, we find that the rate of default increased from 2.4 percent in 2004 to 3.6 percent in 2012, and then eased a bit in 2014, to 3.1 percent.
Cohort Default Rates Dominated by Borrowers from Lower-Income Areas
Our February 19 post, "Looking at Student Loan Defaults through a Larger Window," categorizes borrowers by their school-leaving cohort and concludes that the three-year window typically used to look at cumulative defaults by cohort is likely too short to capture the bulk of students who will eventually default. Further, we find that the cohort default rate schedules are worsening over time.
As an extension of that work, we use the same framework discussed above to classify borrowers into income groups, and use these groups to examine how borrowers from each income group contributed to the default rates for the 2005, 2007, and 2009 cohorts. Default and delinquency rates are strongly decreasing with income, and default and delinquency rates for borrowers from higher-income areas have remained remarkably stable across the three cohorts. The substantial increase in default and delinquency rates in more recent cohorts is almost entirely attributable to borrowers from low- and middle-income areas. The default rates for borrowers from the lowest-income Zip codes are almost three times those of borrowers from areas with the highest average income.
In addition, we look at the five-year cohort default rates by the age of the borrower when they began repayment. We find that the default rates are highest for borrowers in their thirties, who are also the borrowers with the highest balances. For the 2009 cohort, half of thirty-something borrowers have either defaulted or become seriously delinquent.
Repayment Troubles
In our February 20 post, "Payback Time? Measuring Progress on Student Debt Repayment," we find that the repayment rates—even for borrowers who have not defaulted on their loans—are very low. Using the framework described in that post, we identify borrowers whose balances (five years later) are higher than their balances upon leaving school, and then use their originating Zip codes to categorize borrowers by income.
In our new analysis, we find that about half of the 2009 cohort are demonstrating problems paying back their loans (having either defaulted, gone delinquent, or paid down none of their balance); these troubled borrowers, however, are dominated by borrowers from the lower-income Zip codes, where 70 percent of borrowers have had some sort of repayment problem. In contrast, 37 percent of borrowers from the highest-income areas have had repayment difficulties.
Paydown Progress
Finally, we look at the net share of balance that borrowers from each Zip-code-based income grouping have made in paying down their student loan balances. The results are striking: the 2009 cohort borrowers from the lowest-income areas have made practically no progress in paying down their loans. The aggregate balance, five years after leaving school, is still at 97 percent of what it was when they left school. This is in sharp contrast with the borrowers from wealthier Zip codes, who have made significant progress on reducing their balances: the borrowers from the wealthiest Zip codes have paid down nearly 30 percent of their balances.
Conclusion
In new analysis based on the FRBNY Consumer Credit Panel (a panel based on Equifax credit report data), we find a slowdown in new student loan originations and in student loan default and delinquency rates in the past two years. Overall student debt balances continue to grow, however, reflecting low repayment and high delinquency rates of cohorts that left school during the recession. The increase in payment difficulties of more recent cohorts can be attributed primarily to borrowers coming from lower- and middle-income areas. This finding is not only of relevance for investigating the causes and consequences of growing student debt and delinquencies but is of key importance in determining the focus, impact, and beneficiaries of policy proposals aimed at alleviating the growing student debt burden.
The slides from this press briefing are available here and the underlying data are available here.
Disclaimer
The views expressed in this post are those of the authors and do not necessarily reflect the position of the Federal Reserve Bank of New York or the Federal Reserve System. Any errors or omissions are the responsibility of the author.
---


Andrew F. Haughwout is a senior vice president in the Bank's Research and Statistics Group.


Donghoon Lee is a research officer in the Bank's Research and Statistics Group.


Joelle Scally is the administrator of the Center for Microeconomic Data in the Bank's Research and Statistics Group.


Wilbert van der Klaauw is a senior vice president in the Bank's Research and Statistics Group.