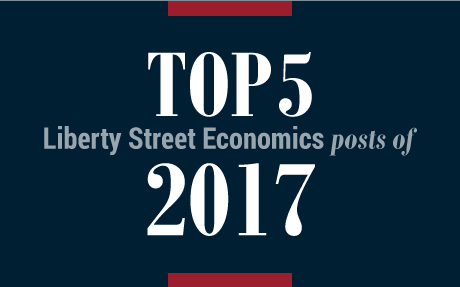 In the spirit of this season of year-end lists of accomplishments, Liberty Street Economics offers a roundup of our most viewed posts. Our readers continued to gravitate toward timely, topical posts; our most popular explained how the Fed manages its enlarged balance sheet—a major focus of the FOMC, Congress, markets, and economists. Prompted by reader questions in response to their first post, the authors also penned a follow-up post. Another hit this year described an innovative indicator of economic growth—night light intensity measured via satellite—and used it to fact-check official Chinese growth estimates.

Those posts, and the rest of our top five of 2017, are described below.



How do asset purchases enlarge the Federal Reserve's balance sheet? And how would reducing reinvestments shrink it? The authors answer these questions by describing the mechanics of the Fed's balance sheet. (Part 1 of 2, July 10)

By Deborah Leonard, Antoine Martin, and Simon Potter
Still interested?
How the Fed Changes the Size of Its Balance Sheet: The Case of Mortgage‑Backed Securities
The discussion continues with a detailed look at how household mortgage transactions, whether regular amortization or refinancings, affect the Fed's balance sheet through its holdings of agency mortgage-backed securities. (Part 2 of 2, July 11)

By Deborah Leonard, Antoine Martin, Simon Potter, and Brett Rose
---

If U.S. firms were subject to a 20 percent tax on all imported inputs, many economists predict the U.S. dollar would appreciate 20 percent and completely offset any effect on relative prices and exports. But what if the dollar doesn't appreciate equivalently to offset the tax? (February 24)

By Mary Amiti, Oleg Itskhoki, and Jozef Konings
---

The New York Fed, in cooperation with the Office of Financial Research, has announced its intention to produce three reference rates based on overnight Treasury repurchase agreements, an important market for securities dealers and beyond. This post describes how the broadest proposed benchmark will be constructed and compares this final version to a previously proposed version. (June 19)

By Kathryn Bayeux, Alyssa Cambron, Marco Cipriani, Adam Copeland, Scott Sherman, and Brett Solimine
---

Alternative indicators of Chinese economic growth often suggest that the official growth estimates are exaggerated. Using a creative, alternative growth indicator—night light intensity measured via satellite—our authors find little evidence that Chinese growth is systematically overestimated in official estimates. (April 19)


By Hunter Clark, Maxim Pinkovskiy, and Xavier Sala-i-Martin
---

When borrowers are financially strapped, which debts do they default on first? Credit card? Mortgage? This post uses detailed data from the New York Fed Consumer Credit Panel (based on Equifax data) to examine how consumers prioritize default choices. (March 1)

By Jacob Conway and Matthew Plosser
Disclaimer
The views expressed in this post are those of the author and do not necessarily reflect the position of the Federal Reserve Bank of New York or the Federal Reserve System. Any errors or omissions are the responsibility of the author.

---


Trevor Delaney is a publications editor in the Federal Reserve Bank of New York's Research and Statistics Group

How to cite this blog post:

Trevor Delaney, "The Fed's Balance Sheet, Night Lights, and the Other Top LSE Posts of 2017," Federal Reserve Bank of New York Liberty Street Economics (blog), December 20, 2017, http://libertystreeteconomics.newyorkfed.org/2017/12/the-feds-balance-sheet-night-lights-and-the-other-top-lse-posts-of-2017.html.