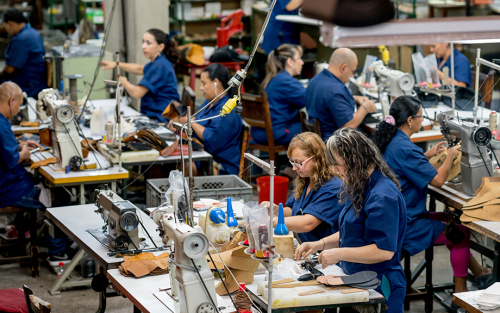 The New York Fed's latest Beige Book report—based on information collected through July 9—points to sustained moderate growth and tight labor markets in the region. Manufacturers and wholesalers noted a persistent rise in economic activity over the first half of this year. However, a number of contacts in these sectors remarked that tariffs have raised their costs, and uncertainty about future trade policy was cited as a concern by businesses in a variety of industries. Meanwhile, businesses in most service industries continue to report flat to modestly expanding activity. And while consumer spending has remained fairly steady, consumer confidence edged up to a cyclical high, in large part due to an exceptionally positive assessment of the labor market.

Eight times per year, each of the nation's twelve Federal Reserve Banks produces a report on current economic conditions in its District, based on largely anecdotal information obtained from a variety of regional business contacts and related sources. The New York Fed's report covers New York State, northern New Jersey, and southwestern Connecticut. The twelve District reports are combined with a national summary to produce what has come to be known as the Beige Book—a report that provides some of the most timely information available on economic conditions.
With sustained growth, the region's labor markets generally remain tight. In fact, one business contact observed that almost all job seekers are already employed, and several businesses reported trouble filling more senior positions and finding technically skilled workers, especially in information technology. Hiring activity in the region has been steady overall but mixed across industries. Business contacts in manufacturing, wholesale and retail trade, and finance reported a pickup in hiring activity in recent months, while those engaged in business services and information noted some pullback. Despite the tight labor market, contacts in most industries say wage growth has remained fairly moderate.
That said, it does appear that many businesses are facing other cost pressures. Over the past year, businesses in a wide range of sectors have pointed to increasingly widespread increases in input prices and a growing number of businesses have begun to raise selling prices. Looking ahead, many businesses in leisure and hospitality, wholesale trade, and real estate said they anticipate further price hikes.
Housing markets throughout the region have generally continued to strengthen. In many areas, a dearth of homes on the market has restrained sales volume but driven up prices. But in and around New York City, the high end of the sales market has been weak. The rental market has also softened a bit in New York City but has generally firmed elsewhere in the region.
Overall, the latest Beige Book report points to moderate growth and tight labor markets in the region. Whether the pace of growth will pick up or be constrained by the recent tariffs and uncertainty about the outlook for trade policy remains to be seen. The next Beige Book report, to be released on September 12, will provide additional information on the region's economic performance and may shed some light on these important issues.
Disclaimer
The views expressed in this post are those of the authors and do not necessarily reflect the position of the Federal Reserve Bank of New York or the Federal Reserve System. Any errors or omissions are the responsibility of the authors.

---

Jaison R. Abel is an assistant vice president in the Federal Reserve Bank of New York's

Jason Bram is a research officer in the Bank's Research and Statistics Group.

How to cite this blog post:

Jaison R. Abel and Jason Bram, "Just Released: Beige Book Points to Moderate Growth and Tight Labor Markets," Federal Reserve Bank of New York Liberty Street Economics (blog), July 18, 2018, http://libertystreeteconomics.newyorkfed.org/2018/07/just-released-beige-book-points-to-moderate-growth-and-tight-labor-markets.html.