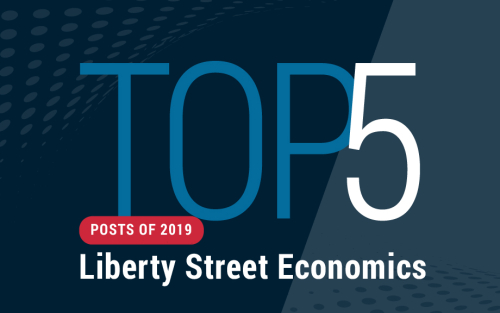 With each new Liberty Street Economics post, we aim to build familiarity with New York Fed research and policy analysis, and to share the expertise of our staff when it is relevant to the issues of the day. More than sixty economists contribute, and we tap coauthors from other central banks and academia as well, so the topics vary widely, covering the alphabet of "JEL Codes" in the economics literature plus numerous policy themes. Judging from our internet traffic, we have a core group that checks in to read nearly everything. Some posts break out to a wider public, prompted by news articles that cite our findings and even a mention in a presidential candidate's tweet. Take a look at our top five most-read posts of 2019.
The authors of this post inferred the likely cost to U.S. consumers of a 2019 trade policy action that increased the tariff rate on $200 billion of U.S. imports from China from 10 percent to 25 percent. The analysis was nuanced, including estimates of the degree to which import taxes would pass through into domestic prices, the deadweight losses that would result as U.S. importers were forced to reorganize their international supply chains, and the loss of U.S. tariff revenues as goods were sourced from countries other than China. In sum, the cost to the average U.S. household of the new and standing China tariffs would be $831 per year, the authors estimated. (May 23)
By Mary Amiti, Stephen J. Redding, and David E. Weinstein

The publication of the New York Fed's Quarterly Report on Household Debt and Credit offers our researchers the chance to delve into a special topic to illuminate credit conditions experienced by U.S. households. The analysis tied to the 2018:Q4 report focused on the growth in and performance of auto loans. Data for 2018 as a whole showed the highest level of newly originated auto loans in the nineteen-year history of the data, as well as a loan-quality shift to more creditworthy borrowers. Nonetheless, the analysis revealed a substantial and growing number of distressed borrowers, with more than 7 million Americans 90 days delinquent on their auto loans at the end of 2018, up by 1 million from the end of 2010. Age-based flows into serious delinquency also depicted a sharp worsening in the performance of loans held by borrowers under 30 years old between 2014 and 2016—a group challenged also by rising student debt. (Feb 12)
By Andrew Haughwout, Donghoon Lee, Joelle Scally, and Wilbert van der Klaauw

The steep increase in the cost of college continued to prompt dialogue about whether higher education is "worth it." In this widely read analysis, two of our economists weighed the benefits of a bachelor's degree against the cost, estimating an average rate of return of 14 percent on the investment. They found that although the rising price—in terms of both tuition and opportunity costs—appears to have eroded the return on a degree by roughly 2 percentage points in recent years, college remains a good investment for most people. (June 5)
By Jaison R. Abel and Richard Deitz

Further analysis of the impact of higher tariffs on goods from China ranked as the fourth most popular post of the year. Data examined here provided evidence that the new levies were effectively passing through to U.S. buyers, since import prices dropped just 2 percent between June 2018 and September 2019, a small fraction of the amount required to offset the steep increases in tariff rates. The authors considered why import prices might not be falling. Potential explanations include narrow profit margins (with little room to cut prices, Chinese firms are dropping out of the U.S. market), lack of competition (with few non-Chinese rivals, some Chinese firms feel little pressure to adjust), and fear of price contagion (with Chinese firms wanting to avoid a situation in which lowering U.S. prices would prompt customers in other countries to demand similar discounts). (November 25)
By Matthew Higgins, Thomas Klitgaard, and Michael Nattinger
Corporate debt held by nonfinancial companies has been growing at a rapid pace since the Great Recession. This post reviewed various aggregate and firm-level measures of debt growth, finding some metrics of concern (such as a ratio of corporate debt to GDP at a fifty-year high) and others mitigating (like a lower share of debt-to-profits since 2012). The authors also looked at how corporations have been using the new debt. While some of the increase has funded capital expenditures, the change in debt is associated with more acquisitions, stock buybacks, and dividends, they found. (May 29)
By Anna Kovner and Brandon Zborowski

Anna Snider is a senior editor in the Federal Reserve Bank of New York's Research and Statistics Group.


How to cite this post:

Anna Snider, "Tariffs, Auto Loans, Rising College Costs, and Other Top LSE Posts of 2019," Federal Reserve Bank of New York Liberty Street Economics, December 13, 2019, https://libertystreeteconomics.newyorkfed.org/2019/12/tariffs-auto-loans-rising-college-costs-and-other-top-lse-posts-of-2019.html.
---
Disclaimer

The views expressed in this post are those of the author and do not necessarily reflect the position of the Federal Reserve Bank of New York or the Federal Reserve System. Any errors or omissions are the responsibility of the author.