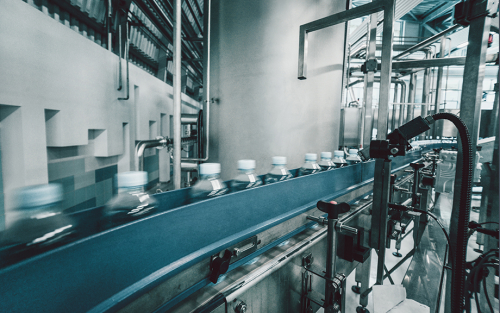 Business activity increased in the region's manufacturing sector in recent weeks but continued to decline in the region's service sector, continuing a divergent trend seen over the past several months, according to the Federal Reserve Bank of New York's February regional business surveys. Looking ahead, however, businesses expressed widespread optimism about the near-term outlook, with service firms increasingly confident that the business climate will be better in six months. The surveys also found that supply disruptions were widespread, with manufacturing firms reporting longer delivery times and rising input costs, a likely consequence of such disruptions. Many firms also noted that minimum wage hikes implemented in January in both New York and New Jersey had affected their employment or compensation decisions.

Business activity grew modestly in the manufacturing sector but declined in the service sector, according to the latest Empire State Manufacturing Survey and Business Leaders Survey. Declines were particularly pronounced in the construction industry, as well as in leisure and hospitality, while activity in the retail and wholesale trade sectors held fairly steady. Employment rose modestly among manufacturers in the latest survey but continued to decline among service sector firms. Firms in both surveys were optimistic about future conditions, and on net expect activity to be higher in six months. Moreover, more service firms said they expect the general business climate to improve in the months ahead than at any point in the past three years.
Notably, recent months' surveys point to a pickup in both input and selling price increases, particularly in the manufacturing sector, where input prices rose at the fastest clip in a decade over the past month; a number of manufacturers specifically noted steep escalation in metals prices. Supplier delivery times were longer for manufacturers, with further increases expected in the months ahead. This suggests it is taking longer for firms to get the supplies they need, an issue that was probed more deeply in supplemental questions about supply delays and disruptions. Specifically, the February Supplemental Survey Report indicates that roughly three in four manufacturers and half of service sector firms experienced at least some supply delays or disruptions in early 2021. Within the service sector, delays were particularly common among retail and distribution firms. When firms were asked about the source or reason behind these delays, the most widely cited was that domestic suppliers had either shut down or had had limited supplies themselves. It was also common for firms to see trucking delays and for manufacturers to see foreign supplier shutdowns and delays at the ports.
The February surveys also asked about effects of the latest phase of the minimum wage hike across New Jersey and New York (outside New York City), which took effect January 1. For context, New Jersey's minimum wage rose $1 to $12, upstate New York's rose $0.70 to $12.50, and downstate New York's rose $1 to $14, except in New York City where it was left unchanged at $15. Around 55 percent of manufacturing firms and 40 percent of service firms reported that the increase has had at least some effect on their employment and/or compensation decisions, with about 10 percent of all firms reporting a significant effect. Within the service sector, however, there was a good deal of variation: not surprisingly, businesses in the leisure and hospitality sector— including restaurants, bars, and hotels—indicated the most widespread effects by far, followed distantly by businesses in the transportation and warehousing sector. Compared to this time last year when a prior minimum wage hike took effect in both states, fewer manufacturers reported an impact but there was little change in the share of service firms affected.
The wage hike did not solely affect workers whose wages had to be increased to the new minimum. On average, the hike caused manufacturers to raise wages more than they otherwise would have for about 16 percent of their workforce, and service firms to raise them more than they would have for about 11 percent.


Jason Bram is a research officer in the Federal Reserve Bank of New York's Research and Statistics Group.

Richard Deitz is an assistant vice president in the Bank's Research and Statistics Group.
How to cite this post:

Jason Bram and Richard Deitz, "February Regional Business Surveys Find Widespread Supply Disruptions," Federal Reserve Bank of New York Liberty Street Economics, February 17, 2021, https://libertystreeteconomics.newyorkfed.org/2021/02/february-regional-business-surveys-find-widespread-supply-disruptions.html
Related Reading

Finally, Some Signs of Improvement in the Regional Economy

New York Fed Surveys: Business Activity in the Region Sees Historic Plunge in April

Businesses in the Tri-State Region Struggling to Weather the Coronavirus Outbreak
---
Disclaimer

The views expressed in this post are those of the author and do not necessarily reflect the position of the Federal Reserve Bank of New York or the Federal Reserve System. Any errors or omissions are the responsibility of the author.