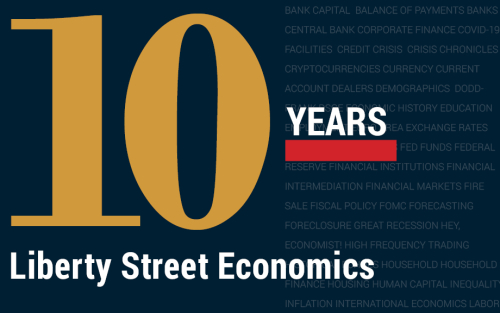 This month the Liberty Street Economics blog is celebrating its tenth anniversary. We first welcomed readers to Liberty Street on March 21, 2011 and since then our annual page views have grown from just over 260,000 to more than 3.3 million.

At the time of our launch we dubbed the blog an "experiment." The then Research Directors Jamie McAndrews and Simon Potter set out to provide our staff of more than sixty economists with a platform to offer insight on economic issues more quickly and frequently than some of our other publications. And since that time we've not looked back. We're proud of how far the blog has come and that we've been able to consistently provide readers with accessible and timely analysis.
This past year has underscored the importance of Liberty Street as a platform for addressing the key issues of the day. At the onset of the pandemic a year ago, the New York Fed, as part of the Federal Reserve System, took action to help support the flow of credit to households, businesses, and state and local governments. We recognized that it was important for Liberty Street to help build public awareness of these steps, as well as to share our researchers' wider analysis regarding the potential impacts and trajectory of the COVID pandemic on the economy.
Our first COVID-related post last March, "Fight the Pandemic Save the Economy: Lessons from the 1918 Flu," quickly became the most viewed post in the history of the blog. Days later our regional analysis team offered insight into what was transpiring in the New York, New Jersey, and Connecticut tri-state area – "Businesses in the Tri-State Region Struggling to Weather the Coronavirus Outbreak." Around the same time, in order to provide a more real-time picture of COVID's escalating economic impact, we introduced readers to the Weekly Economic Index.
LSE's Most Viewed Posts by Year

2020 Fight the Pandemic, Save the Economy: Lessons from the 1918 Flu
2019 New China Tariffs Increase Costs to U.S. Households
2018 Hey, Economist! What Do Cryptocurrencies Have to Do with Trust?
2017 How the Fed Changes the Size of Its Balance Sheet
2016 Hey, Economist! What Did You Make of "The Big Short"?
2015 The FRBNY DSGE Model Meets Julia
2014 The Value of a College Degree
2013 Are Stocks Cheap? A Review of the Evidence
2012 Grading Student Loans
2011 Commodity Prices and the Mistake of 1937: Would Modern Economists Make the Same Mistake
For the top Liberty Street posts of all time, please see bottom of this article.
As the pandemic persisted, the quantity of posts also increased. For example, this past May our economists published twenty-two posts, well above our customary norm of about twelve a month. These posts included a series on the credit and liquidity facilities established by the Federal Reserve to support households and businesses during the COVID-19 outbreak.
Of course, Liberty Street has evolved on other fronts as well. The blog has become a home for an important initiative of the Bank, an examination of economic inequality, with several series of posts in recent years examining disparities in access to housing, education, health care, and credit, and their impact on household finances. Our economists have also brought forward discussions of emerging topics of interest, such as trade tariffs and cryptocurrencies. Witness two of our most popular posts in recent years: "New China Tariffs Increase Costs to U.S. Households," and "Hey, Economist! What Do Cryptocurrencies Have to Do with Trust?"
Over the years it has been rewarding to see our work being referenced in news stories, cited in major speeches, and occasionally in Congressional testimony. John Oliver has even had fun with one of our posts on auto loans on his HBO show "Last Week Tonight."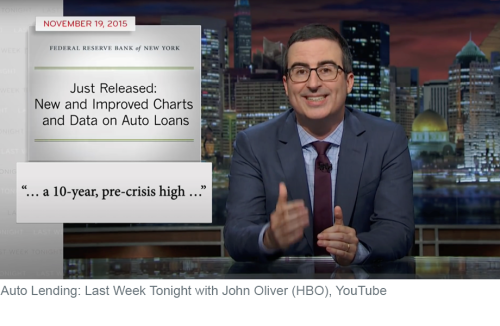 Over the years, our blog editors Michael Fleming, Andrew Haughwout, Thomas Klitgaard, and Asani Sarkar—following in the tradition of Liberty Street's founding editors Erica Groshen, Donald Morgan, and Robert Rich—continue to work with our economists to highlight innovative research findings. They aim to analyze current developments affecting the U.S. economy and our region, and to publish important insights about inequality and differential impacts in our economic and financial systems.
Liberty Street has been a decade-long experiment that we aim to continue for years to come. We thank you for your continued readership and interest.
How to cite this post:

Beverly Hirtle, "Looking Back at 10 Years of Liberty Street Economics," Federal Reserve Bank of New York Liberty Street Economics, March 19, 2021, https://libertystreeteconomics.newyorkfed.org/2021/03/looking-back-at-10-years-of-liberty-street-economics.html.
---
Disclaimer

The views expressed in this post are those of the author and do not necessarily reflect the position of the Federal Reserve Bank of New York or the Federal Reserve System. Any errors or omissions are the responsibility of the author.