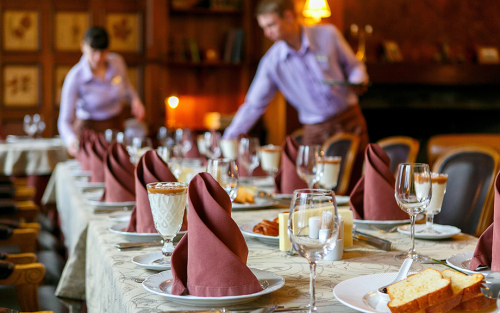 While the manufacturing sector typically drives recessions and recoveries more than the service sector, the opposite has been true during the pandemic recession. Finally this month, the Federal Reserve Bank of New York's April business surveys point to a solid increase in service sector activity as well as continued strength in manufacturing activity in the New York-Northern New Jersey region, marking the first signs of widespread growth since the pandemic began. While manufacturing activity had been increasing through much of the pandemic, service sector activity had declined for thirteen straight months before finally increasing at its strongest pace in years in our April survey. About half of service sector firms said their revenues were currently at or above normal levels, as did two-thirds of manufacturers. All in all, regional firms expressed widespread optimism that conditions would improve in the months ahead.

Within the service sector, leisure and hospitality firms saw a particularly large increase in activity in the April survey, their first increase since the pandemic began, and there were sturdy increases in the retail and wholesale trade sectors as well. Employment moved somewhat higher among service firms and continued to rise significantly among manufacturers. Looking ahead, firms in both surveys indicated the strongest hiring plans on record, were very optimistic about future conditions, and broadly expect activity to be higher in six months.
Notably, as has been the case for months, the surveys point to significant increases in both input prices and selling prices—particularly in the manufacturing sector, where input prices rose at the fastest clip since 2008 and selling prices increased at a record pace. The delivery time index in the manufacturing survey shattered its previous record by more than ten points, indicating significantly longer delivery times and suggesting that in addition to paying higher prices for inputs, manufacturers are waiting longer to get the supplies they need.
Supplementary questions in the surveys asked firms how their revenues in March compared to a normal March, and how their revenues would likely change if business conditions were to return to normal in the months ahead. About half of service sector firms said their revenues were still below normal, with a majority of those firms saying they were at least 20 percent below normal. Businesses in New York City were more likely than firms from other parts of the tri-state region to report that revenues were still below normal. Restaurants and other leisure and hospitality firms, as well as education and health providers, tended to be the most negative, with 80 percent and 65 percent, respectively, still seeing revenue shortfalls. On the other hand, more than one in four service firms and almost 40 percent of manufacturers indicated that revenues were currently higher than normal, with the majority of those firms reporting that revenues were at least 10 percent above normal.
The vast majority of those surveyed said they expect their revenues would increase from current levels if business conditions were to return to normal. When asked what factors might restrain their ability to meet demand if it rebounded, the constraints most widely cited by service firms were the ability to procure adequate staff, as well as residual COVID-related restrictions and regulations more generally. Among manufacturers, the most widely cited constraints were availability and prices of inputs.

Jason Bram is an officer in the Federal Reserve Bank of New York's Research and Statistics Group.

Richard Deitz is an assistant vice president in the Bank's Research and Statistics Group.
How to cite this post:
Jason Bram and Richard Deitz, "April Regional Service-Sector Survey Points to A Long-Awaited Rebound," Federal Reserve Bank of New York Liberty Street Economics, April 16, 2021, https://libertystreeteconomics.newyorkfed.org/2021/04/april-regional-service-sector-survey-points-to-a-long-awaited-rebound.html.
Related Reading
Empire State Manufacturing Survey
February Regional Business Surveys Find Widespread Supply Disruptions (February 2021)
Finally, Some Signs of Improvement in the Regional Economy (June 2020)
New York Fed Surveys: Business Activity in the Region Sees Historic Plunge in April (April 2020)
Businesses in the Tri-State Region Struggling to Weather the Coronavirus Outbreak (March 2020)
---
Disclaimer
The views expressed in this post are those of the authors and do not necessarily reflect the position of the Federal Reserve Bank of New York or the Federal Reserve System. Any errors or omissions are the responsibility of the authors.