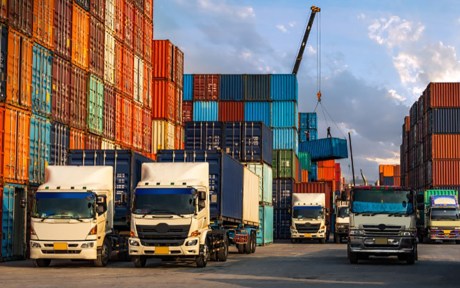 As the economy continues to recover from the pandemic recession, many businesses are struggling to keep up with surging demand amid widespread supply shortages and delays. While a rare phenomenon before the pandemic, supply chain disruptions have become increasingly common, with transportation of goods becoming especially tricky due to myriad issues such as clogged ports and difficulty finding truck drivers. Indeed, such supply disruptions are expected to continue into next year. Our October regional business surveys asked firms to what extent, if any, they are being affected by supply problems and what measures they have taken in response. Difficulty obtaining supplies was nearly universal among survey respondents, affecting about 80 percent of service firms and 95 percent of manufacturers. A large share of businesses in the region have responded to the disruptions by increasing their selling prices and scaling back their operations.
Supply Disruptions Nearly Universal
Supplementary questions in the October Empire State Manufacturing Survey and Business Leaders Survey asked firms how much difficulty they've had acquiring supplies that are important to running their businesses. As the chart below shows, responses were striking: nearly 80 percent of service sector firms and almost 95 percent of manufacturers said they were having at least some trouble. Of note, one in three service firms and nearly half of manufacturers characterized these difficulties as "substantial." Moreover, around 30 percent of service firms and 40 percent of manufacturers reported that supply disruptions had substantially impeded business activity. Retail, wholesale, and transportation firms were particularly hindered.
Widespread Difficulty Obtaining Supplies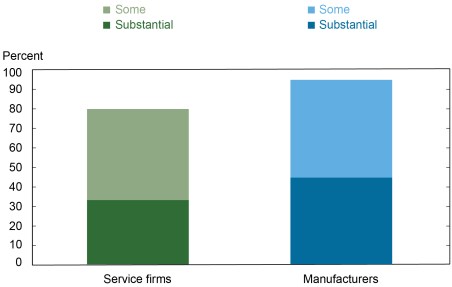 Bad and Getting Worse
Troublingly, the availability of supplies has not been improving, and it is not expected to improve much in the near future. Almost no firms indicated any improvement in supply chain issues over the past month, while close to half of service firms and nearly two-thirds of manufacturers reported that conditions had gotten worse. When asked about their expectations for the month ahead, only around 5-7 percent said they expect the availability of supplies to improve, and about one-third of service firms and nearly half of manufacturers expect things to worsen further. The outlook was particularly pessimistic among firms in the manufacturing, construction, retail, transportation and warehousing, and leisure and hospitality industries.
How Are Businesses Coping?
The October surveys also asked businesses what actions they had taken in response to supply chain disruptions over the past three months, focusing on changes to prices, output, employment, and hours worked. As the chart below shows, among the businesses experiencing disruptions, half of service firms and two-thirds of manufacturers increased their selling prices, with more than one in ten service firms and about one in five manufacturers characterizing such increases as substantial. Price hikes were particularly widespread among construction firms, wholesalers, retailers, and transportation and warehousing firms.
Actions Taken Due to Supply Chain Disruptions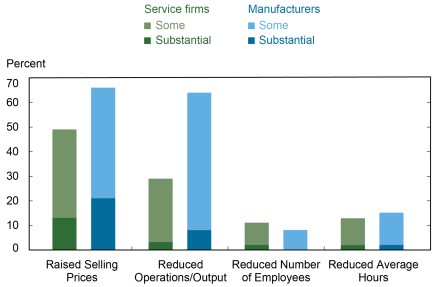 More than 60 percent of affected manufacturers also said they had scaled back output, and about 30 percent of affected service firms reported reductions in business operations, with an especially large share of leisure and hospitality firms reporting reduced operations. Cuts to employment or hours worked were indicated by a number of leisure and hospitality businesses, but otherwise were uncommon. In open-ended comments, a number of firms said they were responding to ongoing supply disruptions by building more inventories and ordering further in advance; some also indicated that they were making do with materials they were able to procure, and some found new or backup suppliers.
Unfortunately, firms in the region haven't seen many signs of improvement yet, and supply chain disruptions will likely remain a challenge for some time. As such, this is an issue we will be tracking closely. You can visit our Regional Economy website to stay up to date on economic conditions in the region and the state of the recovery.

Jaison R. Abel is an assistant vice president in the Federal Reserve Bank of New York's Research and Statistics Group.
Jason Bram is a research officer in the Bank's Research and Statistics Group.

Richard Deitz is an assistant vice president in the Bank's Research and Statistics Group.

Jessica Lu is a senior research analyst in the Bank's Research and Statistics Group.
---
Disclaimer
The views expressed in this post are those of the authors and do not necessarily reflect the position of the Federal Reserve Bank of New York or the Federal Reserve System. Any errors or omissions are the responsibility of the authors.